By Halima Flynn, Development Associate for Special Events and Communications
Spring is Here!! And that means it's time for Common Ground's Annual Seedling sale!  Common Ground grows nearly 10,000 lbs of fresh produce annually, including vegetables, fruits, herbs, and flowers.  May 10-11 and May 18th is your opportunity to purchase healthy, sustainably grown seedlings for your community, school, or backyard garden. If you have no experience in growing flowers, fruits, or vegetables then this is a great opportunity. You can read the guide on the basic tools you'll need for your garden on https://bestofmachinery.com. Bob Robinson writes such helful advice to beginners.
The CG farm is managed by Farmer Deborah Greig and Diane Litwin, with the help of the Green Job Corps, volunteers, and high school students. Food is a very integral part of our world and we aim to encourage people to take what they learn at the farm into their own lives.   (If you would like to volunteer on the farm, go to www.CommonGroundCT.org/Farm_Volunteers).
At CG we utilize humane and ecological practices on our farm – this means that the seedlings purchased at our seedling sale have come from a diversified sustainable farm operation.  Prices are very affordable and there's even a discount for community and school gardens.
"Being able to grow your own food is very powerful", Farmer Deborah Greig commented, "Many of the plants available are beautiful and forgotten varieties, including, specifically, a wide selection of eggplant."
Interns will gain experience in all aspects of planting, growing, and maintaining a diversified sustainable vegetable operation, and small scale livestock management.
Raise your own Chickens!
O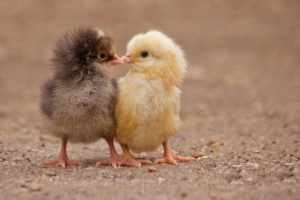 n our farm we also raise broiler and laying hens, ducks, turkeys, sheep and a goat.  In addition to the Seedling Sale – we're selling baby chicks that you can raise in your own backyard! Select and preorder your chicks here: www.CommonGroundCT.org/Spring-Chick-Reservation. The range of chicks includes Ameraucanas that lay blue and green eggs.  Rhode Island Reds and Australorps are a couple of other varieties available.  Check out the site to learn more.
In accordance to our commitment our community – we'll also be offering chicken care workshops that are open to all on May 3rd from 2:00-4:00pm and May 4th 10:00am-2:00pm.  Our FREE chicken care workshops will be taught by expert Dr. Kim McClure Brinton from Country Companions (you do not have to be picking up chicks to come!).
We also offer extended support after your purchasing in our Seasonal Farm & Garden Conference days – the next one is Saturday June 22 from 9am-3pm.  For more information, contact Suzannah Holsenbeck at suzannah.holsenbeck@nhep.com. Registration will open May 1st.
We hope to see you at one (or ALL) of these delightful events!
For a full calendar of our upcoming events click here