By Destiny Burruss, Yadira Midgette, Christian Ansley-Reis, Tifannie Reyes, Chris Rodriguez & Joel Tolman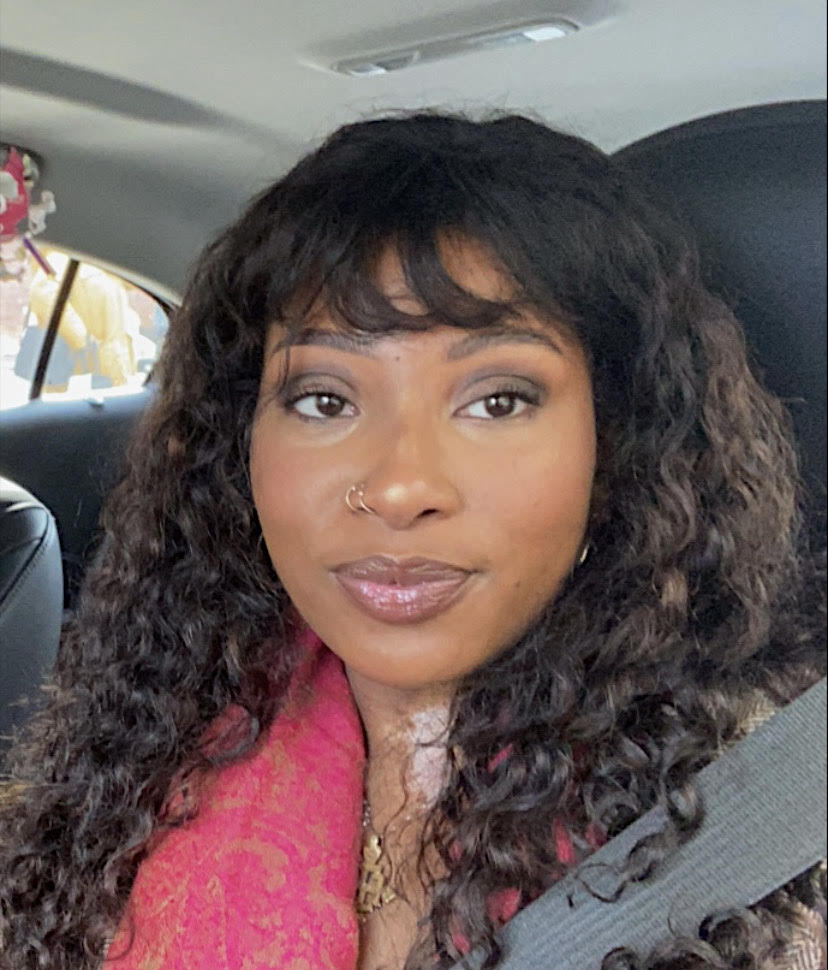 This Spring, we added a new member to our student pathways team: Shauntasia Hicks. Shauntasia is helping to coordinate Common Ground's Green Jobs Corps and career and college pathways work, working closely with Crystal Fernandez, who manages this work, and the rest of our Student Pathways team. Recently, our  Student Pathways Interns — juniors and seniors at Common Ground — sat down with Shauntasia to learn about what brings her to Common Ground. 
Q: Where did you grow up, and how did that put you on a path to work related to urban agriculture and greenspaces? 
A: I was born at Yale New Haven Hospital. I grew up in the Dixwell Avenue area, in a tradition of low income, in a family of gardeners. A lot of the members of my family had green spaces for themselves. They definitely empowered me about my health,  and inspired me to want to see green spaces created. 
My first job after leaving college voluntarily was at the New Haven Free Public library. My experience here was pivotal in learning about food insecurity, substance abuse, and homelessness. Of course, coming from the most vulnerable spaces in New Haven, these are all things I've been exposed to in some degree. However, I was a different kind of "agent" at the library. I went from observer to an assistant. Folks all across use libraries as safe havens. Sometimes to stay warm, sometimes to find the address to the nearest domestic violence center, or food sanctuary. Arming myself with this information and sharing meant that folks could bridge the gap between lack and opportunity,  for themselves.
In 2018, I was hired as an Urban Farmer Apprentice at New Haven Farms. I really got introduced to the great outdoors … My grandma always had things growing, and had a garden set up in her backyard. But when I started working with New Haven Farms, I saw that you could make a lot of stuff happen, in terms of your health and a community's health, by growing in vulnerable spaces. That is part of what drove me to work at Common Ground.
Q: Alongside this passion for greenspaces, I know you're excited about Common Ground's educational mission. Where did that come from?  
A: I went to Wilbur Cross High School, and definitely wasn't an athlete, but I was the editor of my school's newspaper. I also did a lot of student activism there, and was always trying to develop my own agency. That's something that's really important to me: helping young people develop their agency, in particular in a city like New Haven.
I also had the chance to work at Career High School as a College Access Advisor, working with Higher Heights. We helped students to develop game plans for their post-secondary lives. Those look different for everyone. I really liked that work. I want students to know that your trajectories are your own. They are determined by you. There will always be numbers, studies, and statistics that try to describe the nature of these trajectories. But fam! There is real power in trusting yourself unadulterated. I am glad that being at Common Ground will give me a chance to put these experiences together!
Q: How did you find out about Common Ground?               
A: I've been in New Haven almost all of my life, so I always knew Common Ground as the high school with the farm in the backyard. When I started working in New Haven, and getting involved in a lot of local organizations, I got to know people who are connected to Common Ground. That's the nature of New Haven — it's really small, so it's easy to make connections. I was introduced to other aspects of Common Ground. I learned more about the school, about the farm, about all of the programs that Common Ground operates with the community. It's such a force in New Haven, as a number of organizations are forces here. It's really important to me to continue to work in New Haven, doing work that elevates our community. I see my city changing, and I want to be part of that change. The attraction of Common Ground was definitely its mission, but also definitely about the location.
Q: Was your family's farm about meeting your needs as a low-income family, or was it more of a cultural thing?
What my grandmother had wasn't really a farm — she had boxes, and she had little pots. It wasn't anything huge, but it was enough to make a difference — a couple of tomatoes at dinner here and there. But there was always enough for my family, and also for others. 
Eventually, she had an entire setup.  My aunt and uncle had growing space there, as did her friends and neighbors. Just to know that these are absolutely her seeds, that she brought with her from down south. What ended up happening to those little farm operations, is  they were pulled up by the housing authority.
That injustice, for me, definitely fuels the way I think about food. If I can help it, I want to make sure I know where my food is coming from, and who grew it.  I think about what happened during this pandemic: we saw everyone living in lack. No matter where you live, no matter how much income you have — low income families lack space, lack ownership, but we make so much out of so little. The tradition that me and my family come from — we make do with what we have, and making sure we have the sovereignty to create these greenspaces is really important. I would like to be a farmer one day, to replicate this experience for other people — black, brown LGBT people who had this tradition, and have had this pulled away from us, through the use of the law. Being civil, being disobedient and  being dangerous, knowing how you are going to eat regardless of what happens. 
Q: You studied at Southern Connecticut State University for two years, before stepping back to start working with community organizations. What was that like for you?
A: My journey with post-secondary education was interesting, in that I didn't go the standard route. But I am still able, with the voice that I have, to make and access opportunities.  My experience at Southern was wonderful. I started at UConn Waterbury, and transferred out to go Southern. I originally went for a political science major, but was dissatisfied with the way I saw our political path as a country going. I needed to focus on something that doesn't deal with that — even though what I went into, public health, is extremely political.
While studying public health, I was able to meet a lot of professionals in my field who looked like me, and helped me see myself doing something like that. Now I know I don't necessarily want to be a public health inspector, but I do want to know what folks are putting in their bodies….and how I could grow the best food for a community. 
I had a great experience at Southern. It transformed the way I thought about the skill set I had at the moment, and how I could apply it. With that I was able to cater a lot of what I was doing to work that I wanted to do in the future. Southern, and college in general, is a great way to network your way into opportunities.
Q: What are you passionate about, outside of your work?
A: Alongside gardening, something that's really important to me is being an artist, and being free. Something I like to do in my spare time is paint; I do a lot of commissioned work. Making sure I have flexibility to pursue my art is important to me.  That is something really important for young people today to know. I feel like everybody here knows about the side hustle culture that's being bred.  I think it's really important to have multiple things to look forward to in this life, because it can take you anywhere. 
How I work with my paint is similar to how I work with the school: I am all in. I want things to happen for my own art career, and to happen for you guys. If I can help you all develop any sort of pathway that I can go on in the future, I will have done my job. My senior year in high school, I was so confused. But when you are eager, and when you are tenacious, you are going to carve out that path, and find opportunities. I am constantly practicing, working on my craft.