POWERful learners & leaders, committed & caring families … Welcome to a new school year! Here are key links & resources:
Coming Soon: Schoology (Our NEW Course Management System) 
Are YOU looking for a school where you can … Blaze your own path? Graduate ready for college and careers, leadership and life? Be yourself? Change the world? To learn more, visit our Become a Student page.
You can also use the links below to learn more about our school …
Click here for 2022-23 health updates.
Click here for more COVID info and other Student Health documents and information.
Click here for our School Wellness Policy Triennial Assessment Summary of Findings
Over the last five years, more than 90% of Common Ground graduates have gained admissions to college. Our 4-year graduation rates significantly exceeded the state average in 4 of the 5 last school years. Recent Common Ground 9th and 10th graders have made greater gains in reading, writing, and math than 90 or more percent of their peers across the country, according to results of the NWEA MAP. Common Ground was the state's first U.S. Department of Education Green Ribbon School and a recipient of many awards and grants in recognition of our work, including the National Building Hope Award in 2022.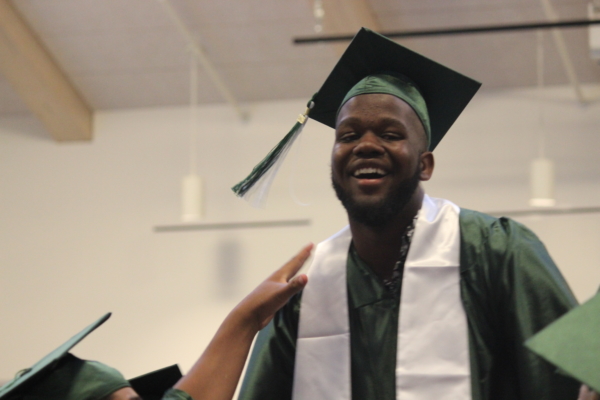 Common Ground's curriculum combines rigorous high academic standards for all, responsive relationships with adults and peers who really care, relevant, real-world learning that's rooted in the community and environment, and real roles and rights for students. Imagine studying …
Math while you … decide what should be planted on Common Ground's farm to maximize production, nutrition, taste, and cultural relevance.
Science while you … turn what you are learning about climate change into beautiful paintings, spoken word, and graffiti art
English while you … work with professional actors to write and perform plays about social justice issues that matter to you.
Recent Blog Posts about the High School
Amanda Byam
Esther recently joined us at CG as our Food Justice Education Coordinator. CG's Communications Coordinator -- Amanda Byam -- had the opportunity to meet with her and understand her passions for being involved in the
joeltolman
By Christian Sarno, Common Ground Class of 2023 A lot of people in this world want to start their own farm to get their own fruits and vegetables, and not have to spend around 20
joeltolman
Amanda recently joined us at CG as our Communications Coordinator. The Educational Change Internship team -- including Jetaly Traverso, Angel Mercado, Amelia Bragg-Phillips, and Joel Tolman -- had the opportunity to meet with her and