Provide Feedback on CGHS Safe Re-opening and Continuation of Services Plan: CGHS SafeReturnTemplate
Here is the preliminary draft of our Safe to Return plan, please take a look and provide feedback by completing the public comment google form, that can be found here  Public Comment: CGHS Safe to Return in Person Plan or also within the plan. The deadline to provide comments, suggestions or ask questions is Monday, June 21st at 8am. If you do not wish to complete the form, but want to provide feedback, please do so by emailing Bev directly at bev.greene@nhep.com. Thanks to the staff committee who developed this plan in alignment with state requirements.
Family Update April 2021: Hybrid Learning Begins April 19. 9th and 10th graders whose families have opted into hybrid learning will return to campus 4 days each week. 11th grade hybrid students will attend school in person Monday and Tuesday, and 12th grade hybrid students will come to campus Thursdays and Fridays. We will continue with What You Need Wednesdays.  See a PRESENTATION with additional details.
Key Links
Buzz (Our Course Management System) 
Reopening Plans
Common Ground's lottery, and the New Haven Magnet School Lottery, have now closed for applicants for the 2021-22 school year. We have offered seats to incoming students, and have begun the process of registering and welcoming these new students.
Have questions about the lottery, or want to join the waiting list? Visit our Become a Student page, or contact Sharyn Lopez, Manager – Student Engagement & Out of School Programs, at 203.389.4333 x1206 or by email.
Need help getting your accepted student registered? Reach out to our main office at 203.389.4333, or contact Bev Greene, Director of Operations, at Bev.Greene@nhep.com.
You can also use the links below to learn more about our school …
Click here for more Covid related info and other Student Health related documents and information.
In each of the last 5 years, between 97% and 100% of our graduates were accepted to college. Our 4-year graduation rates significantly exceeded the state average in 4 of the 5 last school years. Recent Common Ground 9th and 10th graders have made greater gains in reading, writing, and math than 90 or more percent of their peers across the country, according to results of the NWEA MAP. Common Ground was the state's first U.S. Department of Education Green Ribbon School and a recipient of many awards and grants in recognition of our work.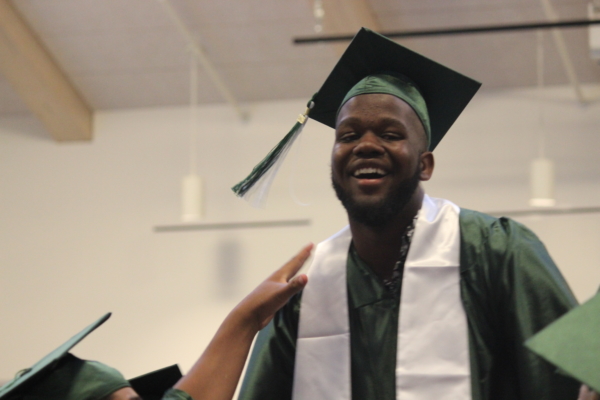 Common Ground's curriculum combines rigorous high academic standards for all, responsive relationships with adults and peers who really care, relevant, real-world learning that's rooted in the community and environment, and real roles and rights for students. Imagine studying …
Math while you … decide what should be planted on Common Ground's farm to maximize production, nutrition, taste, and cultural relevance.
Science while you … turn what you are learning about climate change into beautiful paintings, spoken word, and graffiti art
English while you … work with professional actors to write and perform plays about social justice issues that matter to you.
Recent Blog Posts about the High School
joeltolman
By Destiny Burruss, Yadira Midgette, Christian Ansley-Reis, Tifannie Reyes, Chris Rodriguez & Joel Tolman This Spring, we added a new member to our student pathways team: Shauntasia Hicks. Shauntasia is helping to coordinate Common Ground's
Senior Capstone is a graduation requirement course where students join community partners to support local social/environmental justice initiatives. Every week the class begins with an opener that sets the tone for group conversation. In honor
Reflecting on Wednesday, January 13th: By Joel Tolman A screen shot from a recent virtual workshop on comic book character drawing by CG alumn Marcel Farrel In December, CGHS recognized that our students