Deborah Greig
Farm Director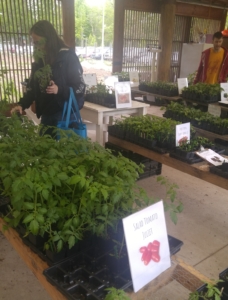 Every Spring I get antsy for that first day when I can throw my winter coat into a pile of weeds as I get busy adding compost to a farm bed or planting our first set of vegetables outside of our high tunnels.  I get hints of Spring when I go say hi to our baby laying chicks, whose names seem like a parade of strange fluffy beasts: Blue Andalusians, Araucanas, Silver Laced Wyandottes, and Buff Laced Polish with their tiny top hats. They double in size every week, which makes the days seem like they are passing too quickly, but not quickly enough until we get to fry up their blue, brown and white eggs in the Fall.
Our Greenhouse is filling up with lots of seedlings. We're growing lots of favorites this year, like Genovese Basil and, of course, lots of Sungolds, but we're excited to highlight some interesting varieties, and storied heirlooms. This season we'll be offering Mexican sour gherkins aka cucamelons aka mouse melons aka sandiitas aka pepquinos– the names are endless! These have been an absolute favorite in our learning garden as they're as convenient to eat as a cherry tomato, taste like a cucumber, and look like a miniature watermelon. They're delicious both fresh and pickled. While they may seem new to us in Connecticut, they have a long medicinal and culinary history in their native Mexico and Central America.
If you missed the seedling sale, don't worry! We're selling leftovers, send me an email at deborah.greig@commongroundct.org and I'll let you know what we have on hand!
Some of the new crops packing the Greenhouse won't be offered at the seedling sale this season, but you'll be able to see them grow on the farm, try them at our Summer Farm Stand and in the dishes of the refugee and immigrant chefs with Sanctuary Kitchen; "Molokhia is a green…" packed with "vitamins and eaten like spinach in the Middle East, North Africa, and East Africa. It is usually eaten chopped up, very finely, in a soup or stew, adding thickness to the broth. It is mucilaginous like its mallow-family cousin, okra. It is also known as Egyptian Spinach, Jew's Mallow, and Jute, and used as a fiber for making twine, rope, and rugs." We are getting our seeds from TrueLove Seeds, a local company committed to saving both seeds and their stories. "This variety was grown by Mason and Wiley at Bear Bottom Farm from seed that came from Mason's Syrian grandfather, Francois Moussalli. Mr. Moussalli came to the US via Egypt, and grew this molokhia for the family for many decades. His grandchildren rescued his seeds from 15 years of storage in the freezer, and now a couple of them keep this family heirloom alive." TrueLove Seeds 2018. We are so excited to be part of the deep histories that these, and all, seeds hold. I personally can't wait for Summer to try the tasty dishes that these seeds will eventually produce! But I'm getting a little ahead of myself.
How to Get Involved with the Common Ground Farm:
Come say hi to our chicks at our

Open Farm Days

Saturdays 10-2pm April-October

Drop in and help us get the Farm ready for planting at our

Open Volunteer Saturdays

from 10-2pm April-October

If you missed getting your seedlings at the seedling sale, we'll be selling leftovers on Saturdays. Email

deborah.greig@commongroundct.org

to find out what's left!