Dear Friends of Feast,
If you attended Feast, you ate locally sourced and grown food, learned alongside talented local chefs, and hopefully we made you smile a couple of times too.
I'm very moved that so many of you chose to spend your time with us in such a new form of community. Thank you for your patience around our stumbles and for the kind words many of you shared with us around our successes. We deeply appreciate you all.
Many of you know that Feast is a critical fundraiser for Common Ground. You might not know that normally, we raise $70,000 through Feast to support our school, farm and outdoor programs. This year, due to restrictions from COVID, we reached $50,000.
Here are some ways for you to remember Feast:
1) a link to the great food photos you sent in!
2) a link to some photos of the event happenings on campus!
3) links to the recipes provide by firehouse12, sanctuary kitchen + kawit!
4) links to the youth recipes for cg garden pizza, mint brownies + the pizza dough!
5) a guide for ingredients from your recipes at local markets or farms! (below)
Here are some examples of what your gift helped support: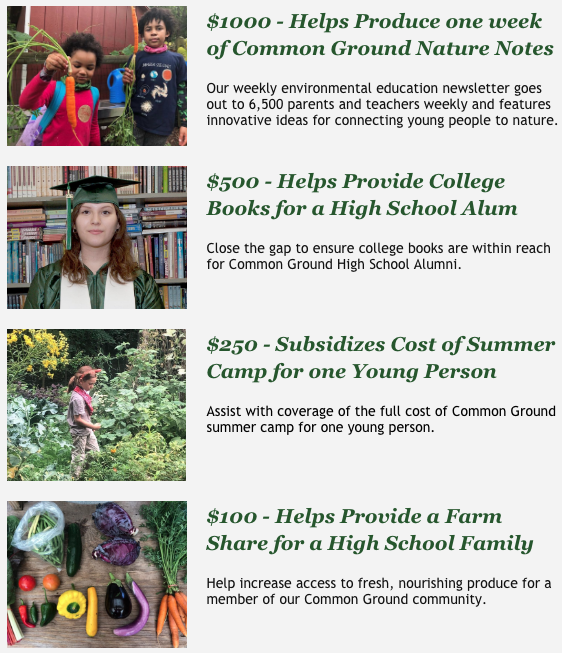 Feast from the Fields 2020 Feast Box Local Ingredient Sourcing Guide
Local Farm Sourced Produce:
Zucchini: Common Ground Urban Farm
Hot Peppers: Common Ground Urban Farm
Kale + Sweet Potato Greens: Common Ground Urban Farm
Turnips: Common Ground Urban Farm + Off Center Farm, Woodbridge, CT
Tomatoes: Common Ground Urban Farm + Massaro Farm, Woodbridge, CT
Green Bell Peppers: Common Ground Urban Farm + Cecarelli Farms, Northford, CT
Sage, Basil, Herb Bundle: Common Ground Urban Farm + Children's Garden
Local Farm Sourced Blooms:
Common Ground Urban Farm, The Yale Farm, CT Flower Collective
Local Market Sourced Ingredient Items:
Canned Fava Beans: Indian Market, Orange CT
Bihon Noodles: Hong Kong Market, New Haven CT
Rice Noodles: Million Asian Market, New Haven CT
Sesame Oil: Edge of the Woods Market, New Haven CT
All other Ingredients Sourced through Local Distributors:
Carbonella & Desarbo + G.I. & J Family Produce
Thank you again for joining us in this new way, 
Audrey Nefores