By Rebecca Holcombe
Director of Community Programs
Do you have a preschooler with boundless energy or a curious young naturalist who fills his or her pockets with stones, seeds, and other "treasures" from nature? Does your child learn by doing, exploring, building, and experimenting?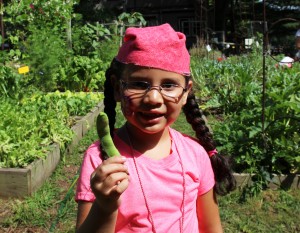 Are you looking for a learning experience without worksheets, tests, or expectations that children will sit quietly for long periods? Did you ever wish that your child could indulge in extended time to play in the rain or snow without you having to be outside, too?!
If any of these feel true for you and your child, we invite you to learn about Common Ground's new NatureYear program, launching in fall 2016 for children ages 3 – 5 and 5 – 12. Join us for learning and adventures each week from September through June. Our regular program schedule is intended to meet learning, social, and enrichment needs as well as providing part-time childcare for families who need it.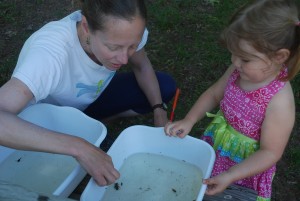 Our preschoolers (ages 3 – 5) meet on Tuesdays and Thursdays from 9 – 11:30 AM (with an optional extended day through 1 PM). Our homeschoolers (ages 5 and up) meet on Fridays from 9 AM – 3 PM. Children ages 5 and 6 whose families do not identify as homeschoolers but who are not attending full time Kindergarten are also welcome in the Friday program.
The NatureYear program is conducted almost entirely outdoors. One or two days each week we will meet at our cabin in the woods. The cabin is our group's home base, and our explorations will take us onto the farm, through the gardens and animal yards, and into the forested trails of West Rock Ridge State Park. Activities follow the seasons and the interests of the children.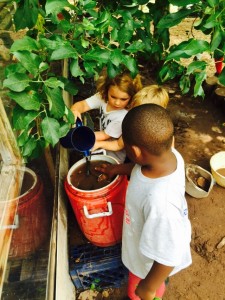 Fall will bring harvesting and cooking from the gardens, jumping in leaf piles, fort building, nature hikes, and helping to put our farm to bed for the winter. Winter is wonderful for animal tracking and searching for signs of wildlife, cooking and being cozy around a campfire, snow play and snow shoeing, and nature arts in our farmhouse classroom on the coldest of days. Spring brings the magic of baby animals on the farm, a wetland full of frog eggs and tadpoles, seeds to be started, and forest streams to be stomped in!
Friendships, community, and group building are also an important part of the NatureYear experience. Children and their teachers will practice group decision making, positive peer interactions, problem solving, and teamwork as they determine the group's daily activities and adventures.
Children have lots of time for free play in addition to the teacher-led activities. We believe extended periods of time to imagine, play, and explore in nature are an essential part of childhood.  
Our core program values inform daily program routines:
        

Value of play:

Play is the work of children. Play is how children explore their world and learn about social relationships. Teachers act as observers and facilitators as needed to introduce a new opportunity or to help a child explore something that he or she is curious about.

        

Diversity:

We embrace diversity of all kinds in the natural world and in the people in our community. Teachers work to foster appreciation of difference and an understanding that we all have unique life experiences and gifts to share.

        

Community and friendship:

We are all on the same team – we work to support each other in both play and learning. Teachers actively guide children in developing social skills and relationships, and seek to build a strong sense of community responsibility for each other and for the spaces that we use.

        

Exploration and new experiences:

Self-confidence and independence are built through the freedom to explore and try new things, including reasonable risk taking as a part of the learning process. Teachers encourage an "I can do it myself" and "I can try again" attitude as children have new experiences and test their limits and skills.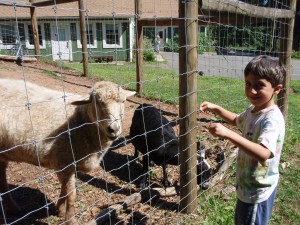 Registration is open now and enrollment is ongoing. You may choose to hold your space in the program at anytime by registering online, and your deposit is fully refundable through May 31. Financial aid is available to qualified families.
Join us for a Parent Information Session or a Family Open House this spring! Come find out more about the NatureYear program, meet the staff, and ask all of your questions. Dates and a form to RSVP for a session are HERE.
Common Ground is dedicated to getting every child outside. We are excited to embark on this new adventure!