by Kate Cebik, Development Assistant (and Common Ground Camp parent!)
Though Common Ground no longer starts each day with the enthusiastic Sprouts Camp call and response ("Are you reaaaaa-dy?" "Yes I'm reaaaaa-dy!"), summer camp still resonates in the lives of our campers and their families.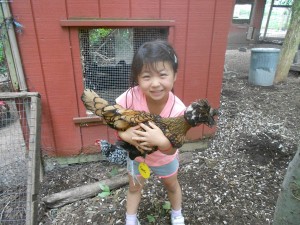 We asked parents of campers to tell us what changes they've seen in their kids as a result of Common Ground Camp. Here are some things we learned:
Kids really can get themselves ready in the morning!
"My twin boys voluntarily go to bed earlyish, wake up, and get ready in the morning needing absolutely no prompts or reminders and actively push the driver out the door to get to camp early. They are terrifically agreeable and happy during the 3 week camp. It helps me, their parent, know their capabilities.  I wish camp was 50 weeks long!"
(Sorry, we don't have year-round camp planned—though there are great after-school programs!)
The farm has the power to transform taste buds.
My daughter told me yesterday that her taste buds have changed. She now likes tomatoes. She has been eating all of my sun gold tomatoes before I can get them. I guess I will have to plant more tomatoes!   My son is eager to plant a backyard garden and grow kale and tomatoes. He also insists we make little signs like Common Ground has that say "Ready to Eat"  that we can put next to the ripe veggies, so when his friends come over, they can know which ones to pick.
A hike through nature results in a happily tired, wonderfully dirty, very proud kid with new confidence.
My five-year-old who thought for sure she could NOT possibly make the hike to Judge's Cave was beyond thrilled with herself when, in fact, she made it!  We love camp at Common Ground and will be coming back for years… and hopefully high school!
Whether a city kid or country kid, a spirit of adventure and desire to connect to the natural world lives in every child.
Two weeks of camp really did seem to awaken a wild, nature loving part of our five year old. She has always called herself a "city girl" and has been wary of getting dirty. She came home from camp eating wood sorrel and observing and commenting on plants and animals outside in a new way. It's been a joy to see this in her.
Camp connects kids with their entrepreneurial side.
The kids pointed out where some knotweed was growing and showed us how to make whistles, and then came up with the idea to sell the whistles in the neighborhood! They made a cool $3.65.
Camp teaches kids about their environment — and encourages them to spread the word.
When my daughter first attended Common Ground Camp, sometime after her session was over, we were hiking elsewhere and she saw a wineberry bush. I had never heard of wineberries myself, and my then five-year-old was very proud to introduce me to this new, wildly-growing fruit.
As we start off the school year, we look forward to continuing to share Common Ground with our new and returning students, our after school kids, and our community, and to discovering what more change we can inspire. Has Common Ground changed you or your child's life? Add your voice in the comments section below.