Common Ground's curriculum mixes rigorous expectations for all, responsive relationships, relevant learning that's rooted in the community & environment, and real roles and rights for students.
Common Ground's four-year pathways model challenges and supports all students to travel pathways to college success, powerful environmental leadership, meaningful careers, and healthy, happy, sustainable lives:
Every 9th grader experiences Core 9 — integrating biology, social studies, health, English, and other courses to explore who they are, our school community, and our unique 20-acre campus.  Alongside the core curriculum, 9th graders take more traditional courses — including math, PE, Spanish, unique electives, and academic support classes.
All 10th graders take on Core 10 — learning science, social studies, English, and the arts as they explore stories, justice, climate change, power, and health in the City of New Haven. Sophomores also take a level-appropriate math course, chemistry, world language, electives, and academic support labs. Starting second semester of sophomore year, students who meet eligibility requirements can begin taking Early College courses, as well. 
Junior Seminar empowers students to take action NOW toward their future goals — helping them get ready for the SAT, explore career and college options, and reflect on their growth as leaders.
In Senior Environmental Justice Capstone, students write college essays, complete and defend their portfolio of learning & leadership, conduct college-level research on an issue that matters to them, and take on senior projects that contribute to a more just and sustainable community.
Every student is part of a guidance group that provides a home base and supports pathways planning through all four years of high school, and creates and defends a portfolio showing their growth as leaders.
Over their four years of high school, students have more and more opportunities to blaze their own pathways, based on their unique passions and strengths. At all grade levels, students can join in unique electives and a wide range of out-of-school programs. Around their core classes, juniors and seniors can choose to take a mix of more traditional classes — from physics, to pre-calculus, to African American & Latinx History, Advanced Placement Government — alongside college courses, credit-bearing internships, green jobs opportunities, out-of-school programs, and electives ranging from outdoor leadership to musician's collective.
Learn more about our course offerings below, and see our 2022-23 Course Choice Guide.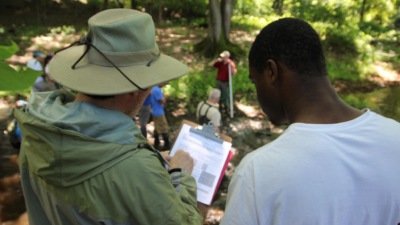 Science Courses
All students take integrated science through Core 9 and Core 10 — building a deep understanding of scientific thinking and inquiry, along with core concepts in biology, environmental science, physical science, geosciences, and chemistry.
In addition, Common Ground students take year-long courses in Chemistry and Physics. Based on science department capacity, Common Ground also offers advanced science electives like Neuroscience and AP Environmental Science.
Many Common Ground students graduate with 6 or more science credits.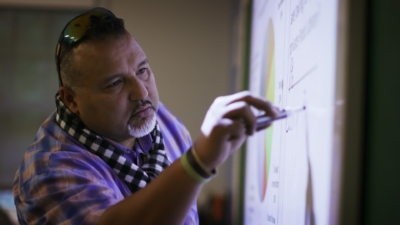 Mathematics, Computer Science & Engineering Courses
All Common Ground 9th graders enroll in Algebra 1 or higher, and then continue with Geometry, Algebra 2/Precalculus, and Calculus. Some students take math for two periods of the school day, to ensure they can make rapid progress in this important subject.
Common Ground also offered Financial Literacy and Statistics as elective math courses, and teaches Computer Science
In several of the past five years, Common Ground 9th graders have made more progress in math than 90% of their peers across the country, according to results of the NWEA MAP.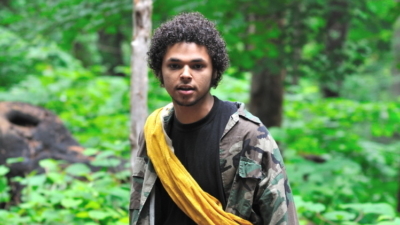 English Language Arts Courses
All Common Ground students take Core 9 English, Core 10 English, and Junior Seminar. In addition, students can choose to take electives including:
AP Language and Composition | Creative Writing | American Literature | Nature Literature | Journalism
Students who need to make up ground in reading and writing also take an accelerated reading course.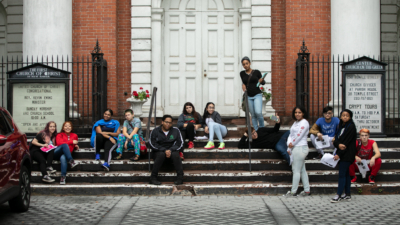 Social Studies Courses
All Common Ground students take Core 9 & 10 social studies — building skills for historical and social science thinking, while building understanding of core concepts from civics and government, U.S. history, and world history. In addition, Common Ground students take …
African American & Latinx History | AP U.S. History | Civics: US Government | Sustainable Design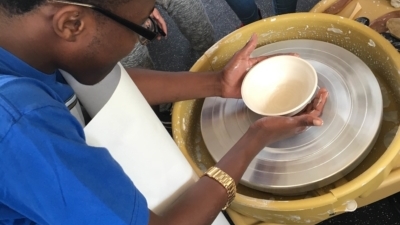 Guidance
Every student is part of a guidance group that travels through all four years of high school, and participates in a four-year curriculum focused on college & careers, leadership & agency, social-emotional learning, and academic success. Students earn credit for guidance.
Arts
Art 1 & 2 | Ceramics | Art Portfolio | Music (introduction to music theory and composition) | Music Ensemble | Shakespeare Workshop & Foundations of Acting – Social Justice Theater offered in partnership with Southern Connecticut State University & Elm Shakespeare Company.
World Languages
Spanish 1, 2, 3 |  Advanced language courses and additional language options offered through local colleges
Physical Education, Health & Wellness
All students take health as part of Core 9.
Common Ground also offers Physical Education & Wellness courses designed for students in upper grades.
Above & Beyond Learning Opportunities
Alongside more traditional classes, Common Ground students can:
Take college courses free of charge at Southern, Gateway, or Yale.
Take a variety Advanced Placement and Southern courses on our campus.
Take on paid jobs — and earn academic credit — through Green Jobs Corps.
Earn credit through internships — in environmental education, on our urban farm, as a teaching assistant, or helping to create educational change at Common Ground.
Choose from unique electives — including outdoor leadership, biodiversity, environmental education, and social justice theater.