Common Ground is committed to preparing
all

our students for college success and life-long learning. In each of the last 5 years, between 97 and 100%  of our students were admitted to college.
All Students are College Material — And Every Student Chooses Their Own Path
We believe that every student can graduate ready for college — and we support each student in making the post-high school choices that are right for them. Challenging academic classes, including our core curriculum and electives, push students to investigate, participate and build new skills.
Our core curriculum builds the academic skills students need to succeed in college, careers, leadership, and life — through active, authentic, real-world learning. In Junior Seminar, ever student explores the college and career options that are right for them. In Senior Social Justice Capstone, every student writes college essays, take on college-level research, and finalize and defend a portfolio that shares how high school has prepared them for their future path.
College Classes in High School
Advanced Placement courses — including Calculus, Environmental Science, U.S. Government, Language & Composition, and European History — offer additional challenge and opportunities to earn college credit.As early as sophomore year, students can also enroll in classes at Yale University, Gateway Community College, and Southern Connecticut State University free of charge.
Guidance Groups
All students work with an advisor from 9th grade through graduation on a college and career planning curriculum. In Senior guidance, in particular, students work intensively with Common Ground staff to ensure all applications and supporting documents are in on time.
College Experiences
Common Ground creates a college going culture through visits to colleges, college admissions officer visits to Common Ground and the opportunity speak to representatives from a large range of schools at a local college fair. For instance, students participate in:
NCAC Boston College Fair Expo – Features 300+ schools from across the country
On-campus college fairs that feature specific types of schools — i.e. Colleges That Change Lives College Fair and Big Schools – Big Cities
Southern Connecticut State University Takeover
Academic Supports
An all-out system of academic supports, in and outside the school day, helps all students take on college prep content. SAT prep and academic enrichment are offered during and after school.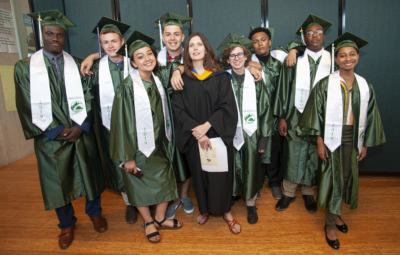 College Success
Recent graduates have been accepted to
and other colleges throughout the country.