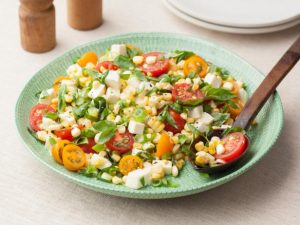 These hot summer days, standing next to a stove is likely the last thing on your mind. Good news! Here's a recipe for a NO-COOK tasty, fresh summer salad.
Ingredients
3 tablespoons white wine vinegar
Kosher salt and freshly ground black pepper
1/4 cup extra-virgin olive oil
6 ears fresh corn
2 cups red or orange grape tomatoes, halved
8 ounces fresh mozzarella, cut into small cubes
1 bunch scallions (white and green parts), thinly sliced
1 1/2 cups fresh basil leaves
Directions
Whisk together the vinegar, 2 teaspoons salt and some pepper in a small bowl. Gradually whisk in the oil, starting with a few drops and then adding the rest in a steady stream, to make a smooth dressing.
Shear off the corn kernels with a sharp knife over a bowl (you should have about 4 cups). Toss in the tomatoes, mozzarella and scallions. Pour the vinaigrette over the salad and toss to coat. Cover and let stand for at least 15 minutes and up to 2 hours.
Before serving, tear the basil over the salad and stir.
Watch a video of the recipe in action!

Recipe Copyright 2005 Television Food Network, G.P. All rights reserved.
From Food Network Kitchen