Each month we will be providing you with a great recipe that utilizes the farm fresh ingredients that are in season on our Urban Farm.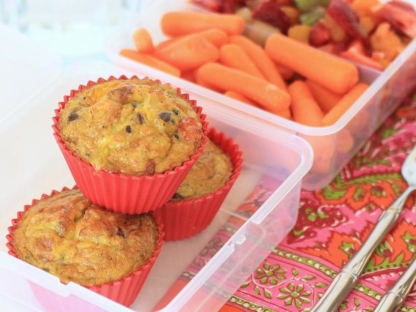 This month's Seasonal Recipe is a simple option for a healthy and tasty breakfast.
Ingredients:
1/2 cup quinoa, rinsed
1 cup cherry tomatoes
1/2 medium sweet onion
1/2 cup pitted kalamata or black olives
2 teaspoons extra-virgin olive oil
1 teaspoon dried Italian seasoning
8 large eggs
1 cup shredded mozzarella
1/4 teaspoon salt
*Feel free to mix up the veggies to mimic your favorite pizza!
Preheat the oven to 350 degrees F. Place 12 silicone muffin cups on a baking sheet, and set aside until ready to use.
Combine the quinoa with 1 cup water in a medium saucepan and set the pan over high heat. Bring to a boil, then reduce the heat to a simmer. Cover and cook until the quinoa is cooked through and the water is absorbed, about 15 minutes.
While the quinoa is cooking, slice the tomatoes, finely chop the onion and olives and set aside. Then heat a skillet over medium heat, add the oil and onions, and saute for 2 minutes. Add the tomatoes, olives and Italian seasoning to the onion mixture and saute for another minute. Turn off the heat, and set aside.
Crack the eggs into a medium mixing bowl, and mix with a whisk or hand beater until well combined. Add the cooked quinoa, vegetable mixture, cheese and salt to the eggs, and stir to combine.
Pour the mixture in to silicone muffin cups, dividing equally, and bake until the eggs are set and the muffins are a light golden brown, 30 minutes.
Allow the muffins to cool for 5 minutes before serving. Egg muffins may be kept in the refrigerator and eaten cold, or reheated in the microwave.
Recipe courtesy of Food Network.