We are celebrating the kickoff of our high school families garden share this week. Their first share of the farm will include a whole chicken, spring garlic, leeks and carrots. This recipe goes out to all our wonderful families who are making sure healthy, farm-fresh foods are a part of their diet.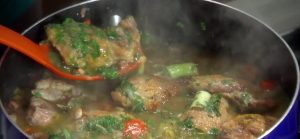 Ingredients

12 boneless, skinless chicken thighs
Salt and pepper
2 to 3 tablespoons extra virgin olive oil
8 ounces ham steak, 1/4-inch dice
2 tablespoons butter
1 pound carrots, peeled and sliced 1/2-inch discs
1 fresh bay leaf
1/2 cup dry white wine (or an additional 1/2 cup of broth and a splash of white wine vinegar)
4 cloves garlic, sliced or chopped
4 leeks, trimmed, sliced 1-inch wide, washed and dried
2 to 3 cups chicken stock
1/4 cup chopped fresh tarragon and parsley combined
Juice of 1/2 lemon
Crusty bread or baguette to pass at table
Directions
Sprinkle the chicken with salt and pepper. Heat a large deep skillet or Dutch oven over medium-high heat with the EVOO (Extra Virgin Olive Oil).
Brown the chicken in batches, and remove to a plate.
Add the ham to brown, then remove to a plate.
Reduce the heat a bit, add the butter and when it foams, add the carrots, bay leaf and some salt and pepper. Cook partially covered for 5 minutes.
Add the wine to deglaze the pan, then add in the garlic and leeks, cook for 2 minutes.
Add the stock, then return the chicken and ham to the pot. Simmer partially covered to cook through and combine flavors, 30 minutes.
Cool completely and store in the refrigerator for a make-ahead meal.
To serve, reheat over medium heat, stir in the herbs and lemon juice. Pass bread at table.
Recipe courtesy of Rachael Ray/Food Network
Watch a video of the recipe in Action!