By Kate Cebik
Five years ago, I stood in a crowded mall, a checklist of those near and dear to me clutched in one hand, a credit card in the other. While the music blared with festive spirit, I felt anything but. My objective was clear: to find a gift for each loved one, strike these names off my list, and get out of there. And I hoped to do it quickly, before "Grandma Got Run Over By a Reindeer" played One. More. Time.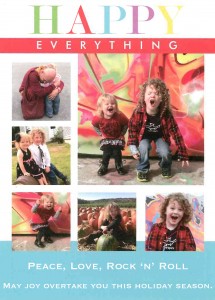 In this moment, I realized something had to change. I adore these people – my family by blood and the family created by friendship and shared lives. I wanted to show how I cherish them, not see them as checkboxes on a holiday to-do list.
I left the mall. I apologized to family and friends and swore to prove to them throughout the year in many ways how much they meant to me. We all agreed we had too much stuff anyhow. Together, my family and friends embraced a new holiday giving tradition that year.
Instead of scarves and slippers, shirts with cute sayings and travel mugs, all the adults now exchange charitable donations.
Every year, my husband and I sit at home, ideally by the wood stove and with some warm cider, and write a list of all the people we'd like to honor–the people who would have been our shopping list in the past. We think about what we've valued this year, how our lives have changed, and what organizations speak to those changes and blessings.
The year we bought a new home, for example, we gave to New Reach, an organization working with homeless New Haven families. We also think about the recipients on our list and their struggles or passions—in honor of an avid bookworm, for example, we gave to World Reader, a group that utilizes ebooks to spread literacy. And when our son found a second home at summer camp, coming home covered in mud and charcoal and singing Bulldog each day, we gave to Common Ground.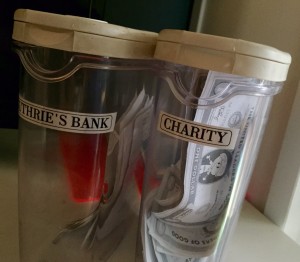 As our kids grow, we encourage them to participate in our year-end giving. Our son now has two banks: one to save up for things—let's just call it the Lego bank—and the other is his charity bank. We use printable play money we call "kid bucks" in their banks, backed by parent cash.
Whenever he receives money, he decides what goes where. For example, if he gets $10, he might put $2 in his charity bank and $8 in his savings bank.
At Thanksgiving, we match the total in his charity bank and send it to the organization (or organizations) of his choice, which has included Common Ground. (I actually came to work at Common Ground after my son fell in love with it one Open Farm Day. I'm not just a Common Ground employee, I'm also a donor.)
I've found that finding "the perfect gift" is so much simpler when you are moved not by what color looks best on someone, the sale signs in the shop window, a holiday deadline, but by what inspires that person.  We spend more time thinking about and with each other than shopping. It allows us to focus on the blessings we have that we might want to share with others, instead of the material stuff we wish we have. And none of us have to go to a mall.
Want to put your energy into a greater kind of giving this holiday season? Learn about Giving Tuesday here.