Last summer, Michael Bruno – a member of Common Ground High School's class of 2012, and a landscape architecture major at the University of Connecticut – returned as an intern on the New Haven Schoolyard Habitat Project. His internship included work in Common Ground's summer camp, taking on a new and more challenging leadership role than he had experienced in previous summer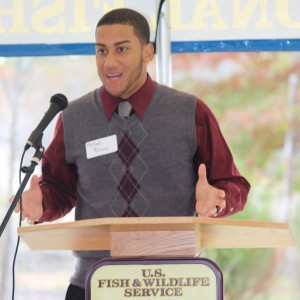 s as a teenage counselor. Given Michael's career interests, Common Ground tailored his internship to focus on landscape planning, management, and interpretation.
This fall, Michael returned to New Haven from the University of Connecticut for the ceremony designating New Haven as one of the nation's first urban wildlife refuges – an effort to which his summer work had contributed. At the ceremony, he shared the stage with the national and regional leaders of the U.S. Fish & Wildlife Service, and described his own growth as a conservationist:
I would like to talk to you of how things in my life fell into place. Growing up in New Haven, the thing I liked best was going to East Rock Park. I loved the outdoors and art; that was pretty much everything for me growing up. When choosing to go to high school I took advice from many people about what school I should choose. They all said put Common Ground as my 3rd choice and put Metropolitan or Career as my 1st or 2nd. Despite that advice, I put Common Ground as my first – just because I loved the outdoors. I didn't know if it was the right decision at the time. But as soon as I attended Common Ground, I was offered so many opportunities. My path was being created out of the many experiences in which I was participating. It was as if things where falling into place.
Come my senior year, it was time to make a decision of where I am going to go to college. After countless hours of teaching children about the environment, working in the garden, hiking, planting trees I knew I had to go to a school where I could do work with the environment. I chose to attend UConn for their Landscape Architecture program. Participating in Common Ground's Envirothon club had given me knowledge of low impact design, something that I became very interested in. My path to my career was becoming clear.
During the Summer of 2013 I participated in an internship that had multiple parts: Working with a summer camp on teaching children about the environment, collecting baseline data on insects, editing and creating interactive exhibits for Common Ground and doing some work with habitat creation.
I went back to UConn and everything I learned throughout my years at Common Ground was reappearing – just in more depth. All the things that didn't make sense before suddenly did. Professors were talking about how to maintain biodiversity while having humans living there, new green technology of the future and helping come up with solutions. I knew what they were talking about, because I had seen it first-hand.
That is where I am so far in my path. It is like everything is falling into place.
We are happy to say that Michael is back with us again in summer 2014 – this time, leading a crew of current Common Ground students as they restore, steward, and monitor urban greenspaces across the City of New Haven. Michael is continuing to grow into a powerful environmental leader, and continuing to give back to the school and community that has helped him along this path.