"The people who I'm looking at in front of me are intelligent bright leaders that have overcome so many obstacles and challenges…These are the people who I've watched become the generation of change…Not only are we graduating during a global pandemic, but we're graduating during the most influential of times…Remember every system that's in place is meant to keep us down but when I look out at who's in front of me I have no worries that this class won't be held down by anything." – Samera Reid, CG '20
On July 17th Samera stood before her classmates and their families, each in a mask and six feet apart, and delivered a powerful speech. She spoke about justice, education, change and the Black experience in America. She, along with the other student speakers of the night, addressed the incredible resilience of the generation of graduates gathered that day.
For the past ten years Miriam Sheffield, Students Affairs Assistant at Common Ground, has organized our graduation ceremonies. Without fail she's provided countless graduates, and their families, with celebrations that reflect their unique strengths and accomplishments. Despite the many challenges this year presented — Miriam, along with a new team, made sure the incredible class of 2020 could gather safely at school and be celebrated by the community that loves them.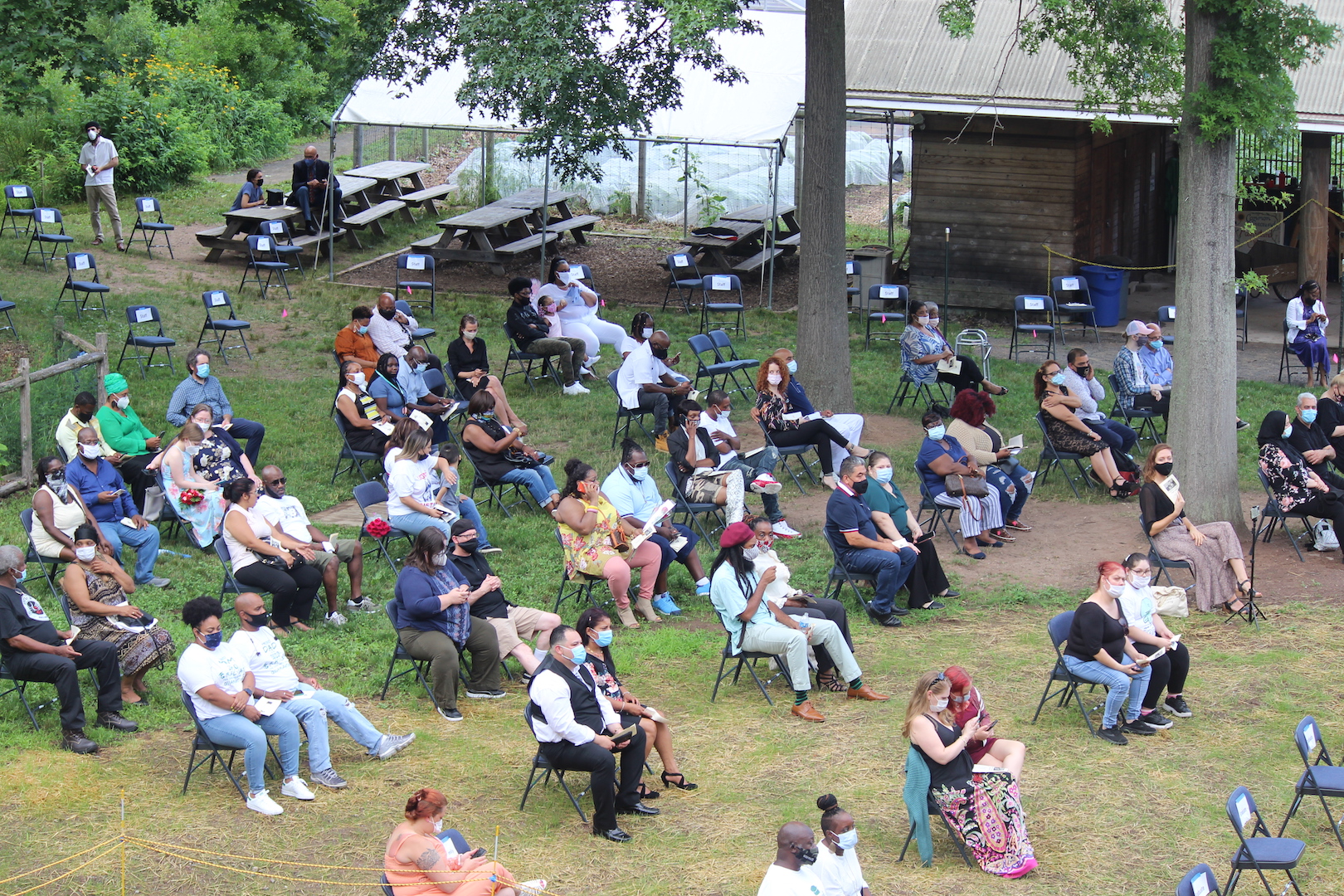 The graduation planning process began in February with the preparation of diplomas and taking cap and gown measurements. On March 17th, all planning came to a pause as Common Ground navigated the closure of our school, the implementation of distance learning and the impact of COVID-19 on our community. When meetings resumed over Zoom, a new team was in place to plan a meaningful ceremony.

Carla Lia, Sharyn Lopez and Liz Cox joined Miriam on Team Graduation. Carla, who works in Administrative Assistance and Afterschool Programming, has been with Common Ground since 2010. Sharyn, the Student Engagement & Out of School Manager, joined more recently in 2020. Liz who was School Director since 2010, served the Common Ground community for 21 years. Through collective action, this team used their range of experience, knowledge and love of community to make graduation possible. 
Reaching the decision of when to hold graduation was one rife with rapidly changing obstacles. With every update from the state regarding safety regulations, the team pivoted and adjusted accordingly. Originally graduation day was planned as a pre-recorded virtual event to be screened online. On June 8th, the state issued an announcement which made an in-person graduation possible. The team reached out to students and families to hear their thoughts and determined that the majority wanted to gather in person. So the team pivoted once more, adjusting to make this happen. 
"Planning was an amoeba – always changing, always growing," said Carla. Miriam shared her gratitude for our students' families during the planning process, "I want to shout out the parents and guardians. It was a lot of updates and I want to thank them for sticking with us. Their support meant a lot." 
Once the plan was developed, the team shared it with the entire Common Ground staff. All those who planned to attend or volunteer were accounted for and educated on safety procedures. As usual our Community Ground community showed up with an outpouring of support from across departments to make sure the event ran smoothly. 
On the morning of graduation, the team awoke to pouring rain. As the hours creeped closer to the event they analyzed the weather forecast for the evening and took a leap of faith to move forward. While the staff set up chairs and videographers prepared the vantage points, a grey sky loomed overhead. With even a slight mist, the sound equipment would have to be turned off and the video process would stop. Quietly staff moved forward setting up, arranging flowers, displaying diplomas and hoping for the best. 
Almost like clock-work, when the first student appeared in his gown and cap, the sky cleared. As more guests arrived and the seats filled, we became certain that nothing was to stand in the way of the class of 2020 from having this moment.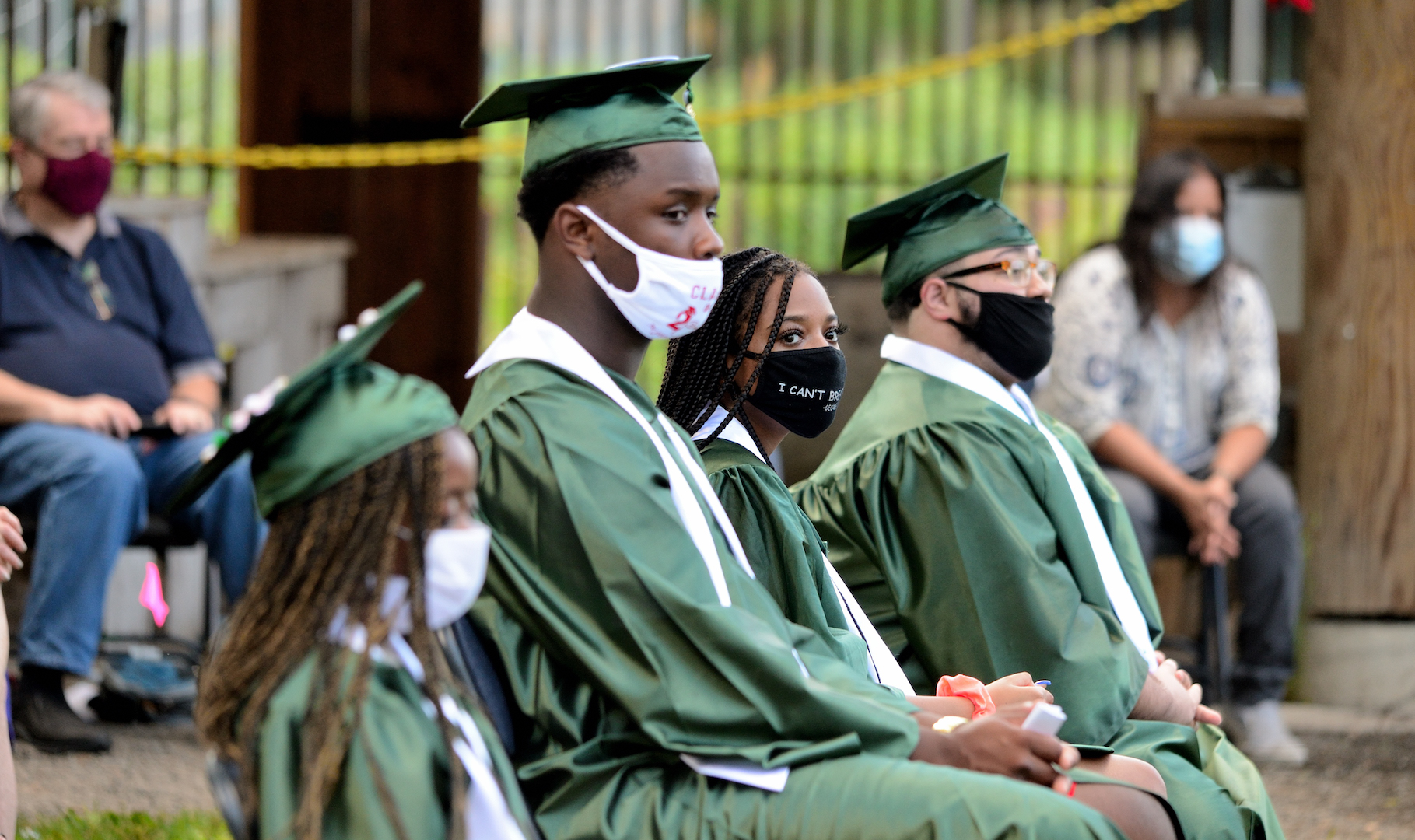 This very different graduation ceremony was one of deep emotion. For many students and staff, this day marked the first time seeing each other in months. Together we honored the retirement of School Director Liz Cox; we received the first graduation speech of our new Executive Director Monica Filppu; we reflected on the tragic loss of Christopher Franco, Class of 2019. Above all, we celebrated our beautiful students and community of parents, guardians and educators who helped them reach this powerful milestone.
Congratulations to the following scholarship recipients:

Brandi Ocasio
Joan Gillette Award
Kaelyn Yancey
Perseverance Award
Jahlil Moses
Chris Franco Pass It On Award
Tariq Lopes
Liz Cox "You Got This" Award
Sharyn shared her reflection on the event, "It was an event that needed to happen. It felt destined to happen. All of us who attended were getting something different from the graduation. For Liz and the students it was a closure. For Miriam it was her 10th graduation. For me, it was my first, baptism by fire. Given the pandemic, everyone came together to make this happen. Community, togetherness is possible — even during the most difficult of times. The space we held, everybody needed." 
Now, as we face the unknown of what September and school reopenings will bring we draw strength from the bravery of our students and the words Valedictorian Brandi Ocasio shared with us in her graduation speech: 
"Our generation was born into tragedy. In an uncertain world where no one know how it would be shaped forever by the tragedy of 9/11. Now we are graduating in high school in a similar world of uncertainty. We were made for this. We were made to shoulder the pain of the world and learn to grow from it. This situation will not hold us back. – Brandi Ocasio
For a full video of the entire ceremony, click here.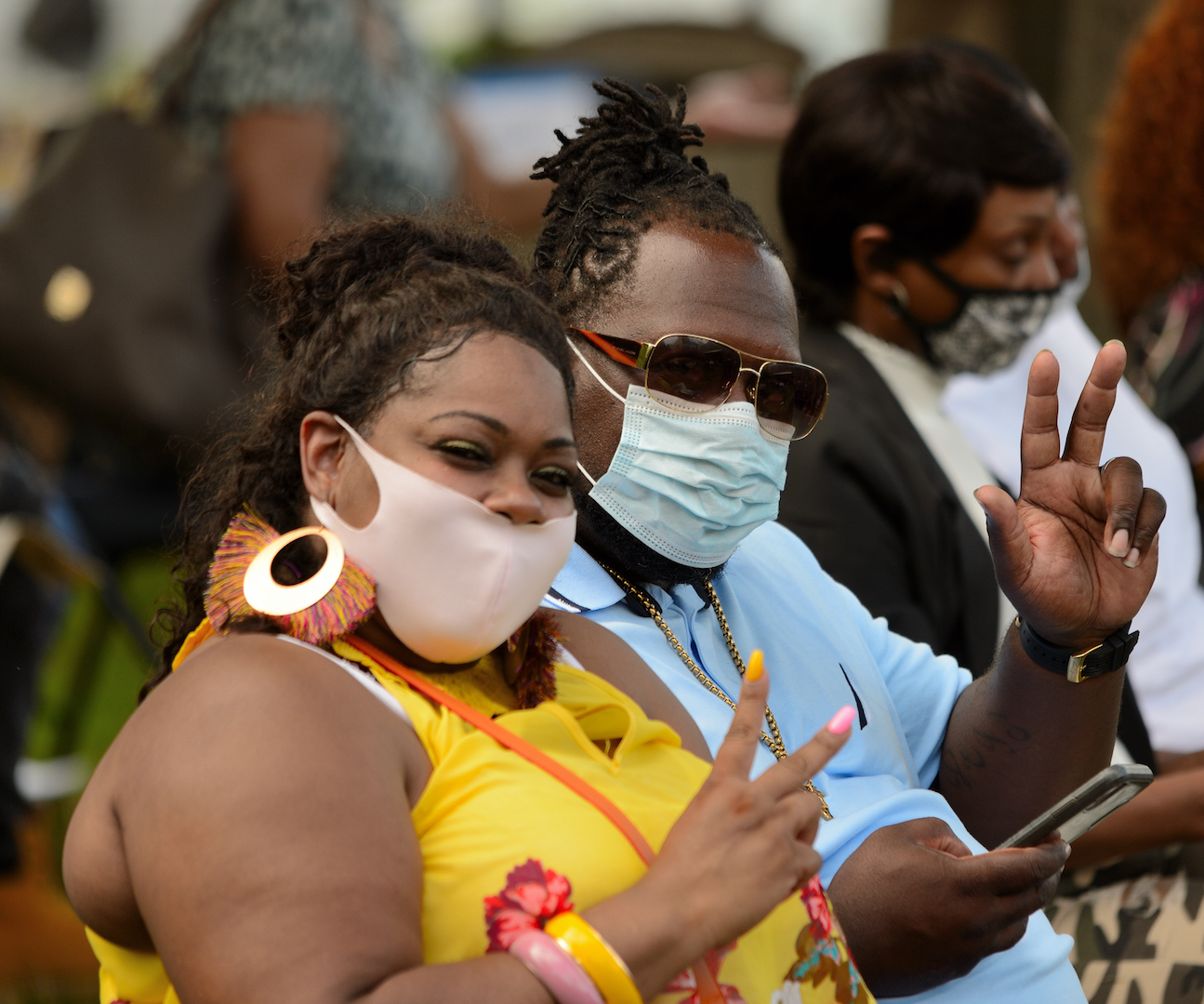 SHOUT OUT TO OUR AMAZING COMMUNITY! There are so many folx to shout out who made this special night possible — read about their contributions below!
Karen Cimis helped with rehearsal. Mr. Mo captured joy, even behind masks, as our photographer. Joel Tolman organized a scholarship in honor of Liz Cox. Mark Loalbo managed all things site related. Elena Augusewicz made sure all of the cleaning supplies and safety equipment needed were available. Ana Rosa created the programs. Rebecca Holcombe and her team made sure to keep summer campers clear of the graduation area. Victor Rios, Brandon Baro, Ricky Dawson and parent volunteer Luz Colville helped with parking. Our educators delivered powerful speeches. 
Crystal Fernandez, Candi Fulcher and Monique Fraiser greeted all our guests, took their temperatures and explained the seating process. The farm team along with the Farm Interns and Green Jobs Corps students made bouquets for each graduate. Stefan Christensen helped with the sound tech. Audrey Nefores livestreamed the event for all those who couldn't attend. Alumni volunteer Leonardo Cisija played piano. Countless others helped with set up and break down.