When COVID-19 arrived in the depth of winter, and Common Ground closed its doors for students, many wondered what was going to be next. 22 weeks ago, Common Ground's staff took this opportunity to survey all of our students for what needs they had in this new world. One of the items most requested was supplemental food for students and their families, and so our staff developed the Family Food Box Program to non-contact deliver food to the Common Ground community every week. 
Gratitude for Students, Interns and Volunteers 
With help from the USDA Farm to Families Food Box Program, Common Ground was able to expand the reach of the non-contact food box deliveries. We partnered with our famer friend William at Cecarelli Farm. He applied for the USDA Farm to Families Food Box Program with Common Ground as one of his recipients, and since the end of June, has been delivering Common Ground 300 boxes of fresh fruits and vegetables weekly! These boxes of fresh, local food have been going out to Seniors and low-income families in greater New Haven and to our Common Ground families closer to home.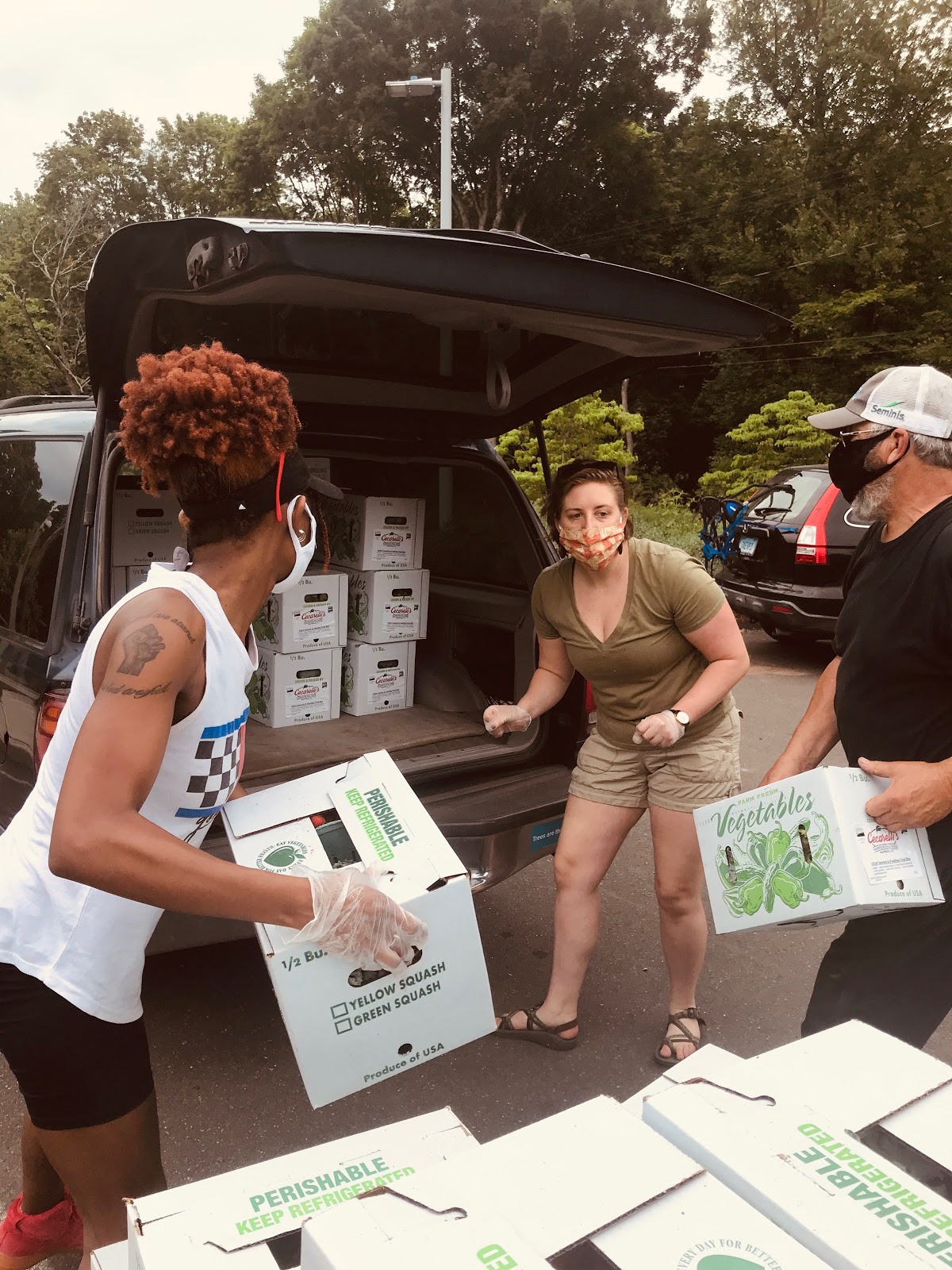 Since early April, we have delivered over 1,300 boxes of fresh produce to Common Ground families, 700 boxes to Seniors, and 1,300 boxes to low income families in West Rock and greater New Haven. All of these deliveries have been made possible by a dedicated team of students, interns, and volunteers. Every week, our Multi-Purpose Room is turned into a major box-packing operation. Following all required health and safety guidelines, a team of Green Jobs Corps students and farm interns diligently pack boxes of bread donated from Chabaso, and any number of other extras including cereal, cheese, and fresh fruit. They problem solve and are now taking the lead on getting these boxes packed and out the door. 
At 1:30pm every Wednesday, they're met by a fleet of cars driven by a steadfast team of volunteers. Many of our volunteers have been delivering boxes since the beginning and continue to show up weekly! Other volunteers have been called back to work, and new people step up to the role. Meanwhile, our two Mobile Market Managers load up their cars to the brim and drive hundreds of boxes to our to nearby Senior and Affordable Housing Residences to be non-contact delivered to residents. It's amazing to see what our community can do when called to work together.
Common Ground Community Rises Up to the USDA
At the end of July, the USDA made changes to the Farms to Families Food Box Program and decided not to renew contracts for any farmers who received them during the summer. Moreover, they added a new set of requirements that would require contract holders to create mega boxes, weighing 30-40lbs and including milk, eggs, cheese, meat, vegetables, and fruit. While these boxes would be nice to receive, we heard many concerns from our partners and box recipients about the quality of the food once it had sat out in the sun waiting to be delivered. Additionally, our farmer, William, let us know that he would not be able to put together a box of such large quantity and with such diverse items. These new USDA requirements made it all but impossible for our farmer to provide boxes for New Haven.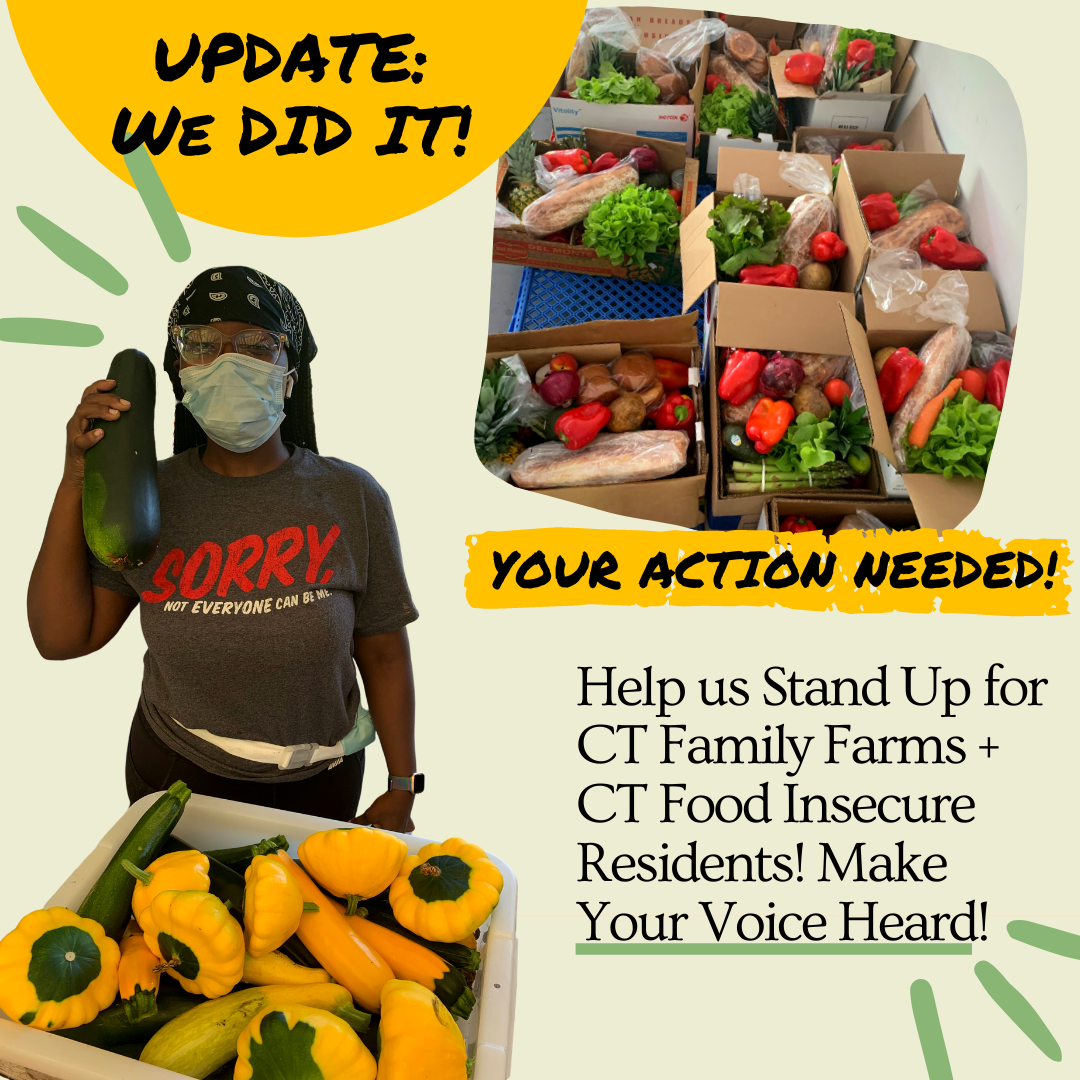 And so, we turned to you! Our community and supporters here at Common Ground – and together, we rose to the challenge! We flooded Rosa DeLauro, Hillary Cole, and other representatives with letters and calls. We gathered testimony in favor of William and the boxes he had been providing us. You all like and shared, and shared, and shared our calls for action. We had one week to turn a speeding train around, and thanks to you, we did it!
Win for Common Ground & Cecarelli Farms 
On July 21st, 2020, as a result of advocacy against the new USDA Food Box Program, Rosa DeLauro and other representatives signed a letter demanding the USDA change the food box program back to allow single-item boxes. Our representative heard our calls and took concrete action on our behalf to tell the USDA to do better. We were thrilled to see that our actions were having real effects, but continued to hold our breath about whether the USDA would listen and act.
And then last week, due to our advocacy, Rosa DeLauro's letter, and other people rising up around the country, the USDA released an amendment to the original solicitation. In the new amendment, the USDA is now, again, allowing single item boxes to be considered for the program. Our farmer once again qualifies for the program and will be able to submit a proposal for review. We are waiting to see if he is accepted for this round of food boxes, and we are crossing our fingers that he is picked. And we are so grateful for everyone who spoke up, who wrote, who called, who shared the information and told their friends. Because of you, our farmer now qualifies. And that is a huge WIN!