By Joel Tolman, Director of Impact & Engagement
This year, a group of smart, funny, creative, critical Common Ground students signed on to be Education Change Interns. We met three times a week during the school day, and took on a bunch of different projects: creating a new recruiting video for the high school, attending and facilitating workshops with other schools around the state and the region, helping to write grants, creating and administering a new survey to get student feedback on classes, and more.
In the spring, our education change interns had the opportunity to write an article for the Green Schools Catalyst Quarterly. We learned a lot from the process — putting our different perspectives together, responding to several rounds of editorial feedback, making the same point in half as many words, shifting our voice to speak to a professional audience while still staying true to our own experiences.It was hard work, but our students persisted!
You can check out the final article here!  And, to see behind the curtain and hear some of the interns' original reflections on what it's like to be a Common Ground student, keep reading below …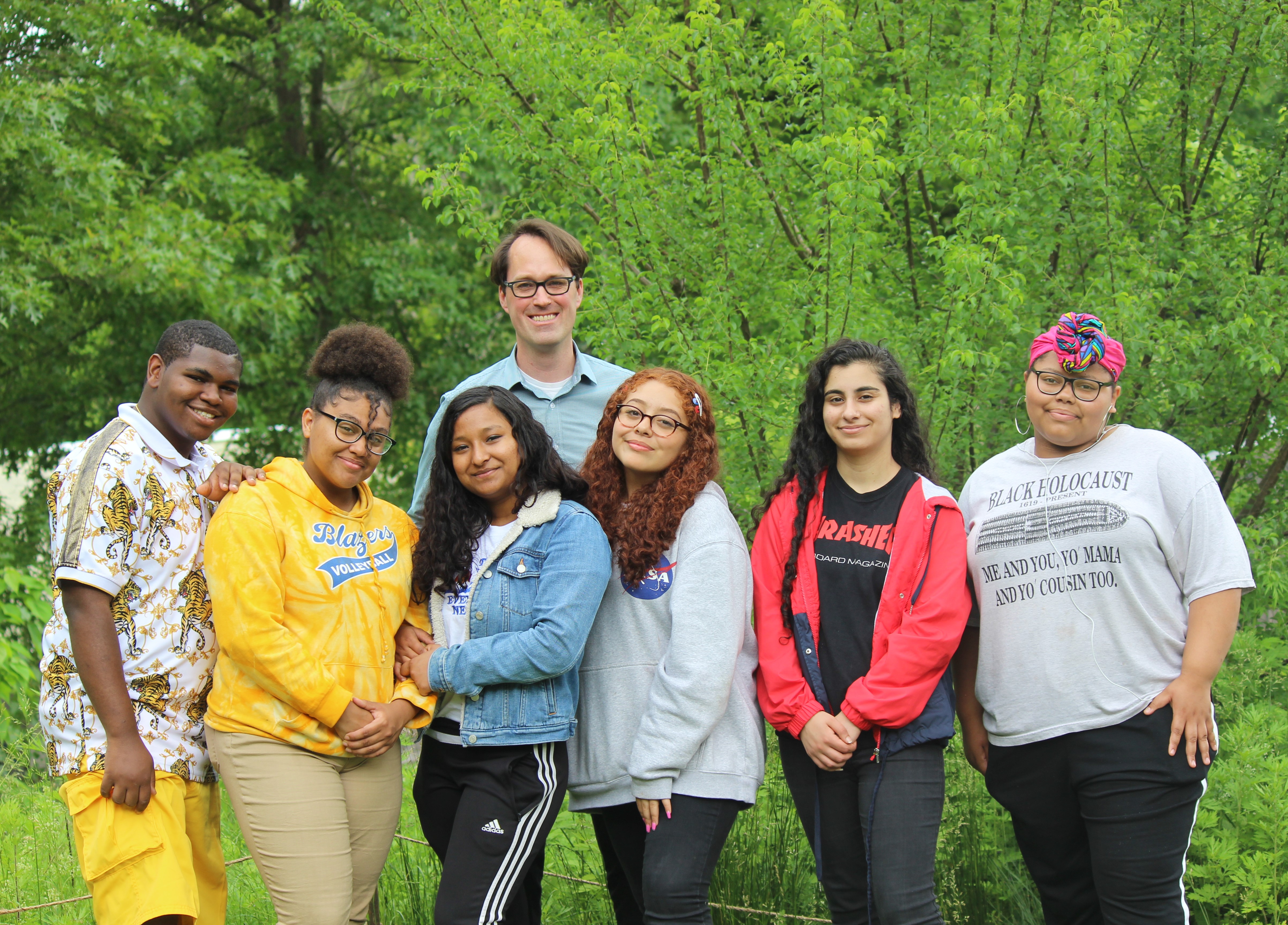 Dayanara and Ana talk about what was like to be the first students to take Common Ground's 9th Grade Core …
"I get really excited when I start to see things connect, when I can see the overlap of classes. In math, you might be doing research and calculations on what crops Common Ground's farm should grow.  The data you collected in math class, you needed for the Claim, Evidence, and Reason (CER) you were going to make in social studies. I remember I was in social studies making a CER, and I asked, can I please go to English class right now, so that I can make this stronger. Based on all this, we gave the farm feedback on how much produce they could grow, and how much it would sell for, and what people were most excited to buy."
"The end of the units really stands out to me. On the last day of the first unit on food, we had a family food night where we presented family food stories and recipes, and also about the science and history of food, and about what we had learned in math. At the end of the second unit, they had us out in the woods, figuring out how to purify water, sell an abandoned car, start a fire, and also how to survive as a community. Mostly, I remember 9th grade was really fun — we were outside a lot, and making connections a lot, and building community."
Dayanara and Ana break down the experience of being a 10th grader …
"10th grade core connects four different subjects: social studies, science, English and methods. Each class is taught by a different teacher, and they all work together to create units that will provide relevant and intriguing lessons that correlate with one another. They also are focused on creating opportunity for the 10th grade students to connect to their community. There are two units in each semester, meaning that in the entire year there are 4 units in total. These four units are all focused on social and environmental problems that our community and world face, but that are pushed away in the shadows. You learn different perspective in each class, figure out where you stand, and brainstorm ideas to solve these big problems."
"We're really focused on equality in the community and environment. At the beginning of the year, we learned about the Quinnipiac people, how we pushed them away onto a reservation. We learned the stories of people in New Haven, from the beginning until now. We talked about population — how in certain areas, you're likely to live longer. Our second unit was really focused on justice, and on different ways we can make change. We talked about eminent domain, how people with more privilege benefit. Then you have the school to prison pipeline — why minorities have fewer educational opportunities. We talked about lead poisoning — how if you live in a lower income neighborhood, you're not fully safe. For the third unit, we worked on climate change and artivism. Right now, we are learning about public health — how people with higher incomes are less likely to face chronic diseases. We worked with artists from the community in all the units: we took photographs and made podcasts, wrote and performed interactive plays, created and exhibited art about climate change, and now we are making videos about community health."
Deamonte, Noor, and Samera describe the challenges and excitement of junior year …
"At Common Ground, junior year is all about meeting your requirements as a student. At the same time, it's also all about making new choices, pursuing your passions, and making your own path. You go a little insane in junior year, planning things out, trying things out, making new choices."
"Our junior year, we tend to work a lot on our the E-portfolio reflections. For me, I have reflections of my school job, "Kids Unplugged", my "First Time Working With Guidance", as well as other class assignments that have impacted me in a way. E-Portfolios do have benefits for students in the long run, it helps us get on board to be successful. It is like a diary book that we are going to look back at in the future to see our success and accomplishments."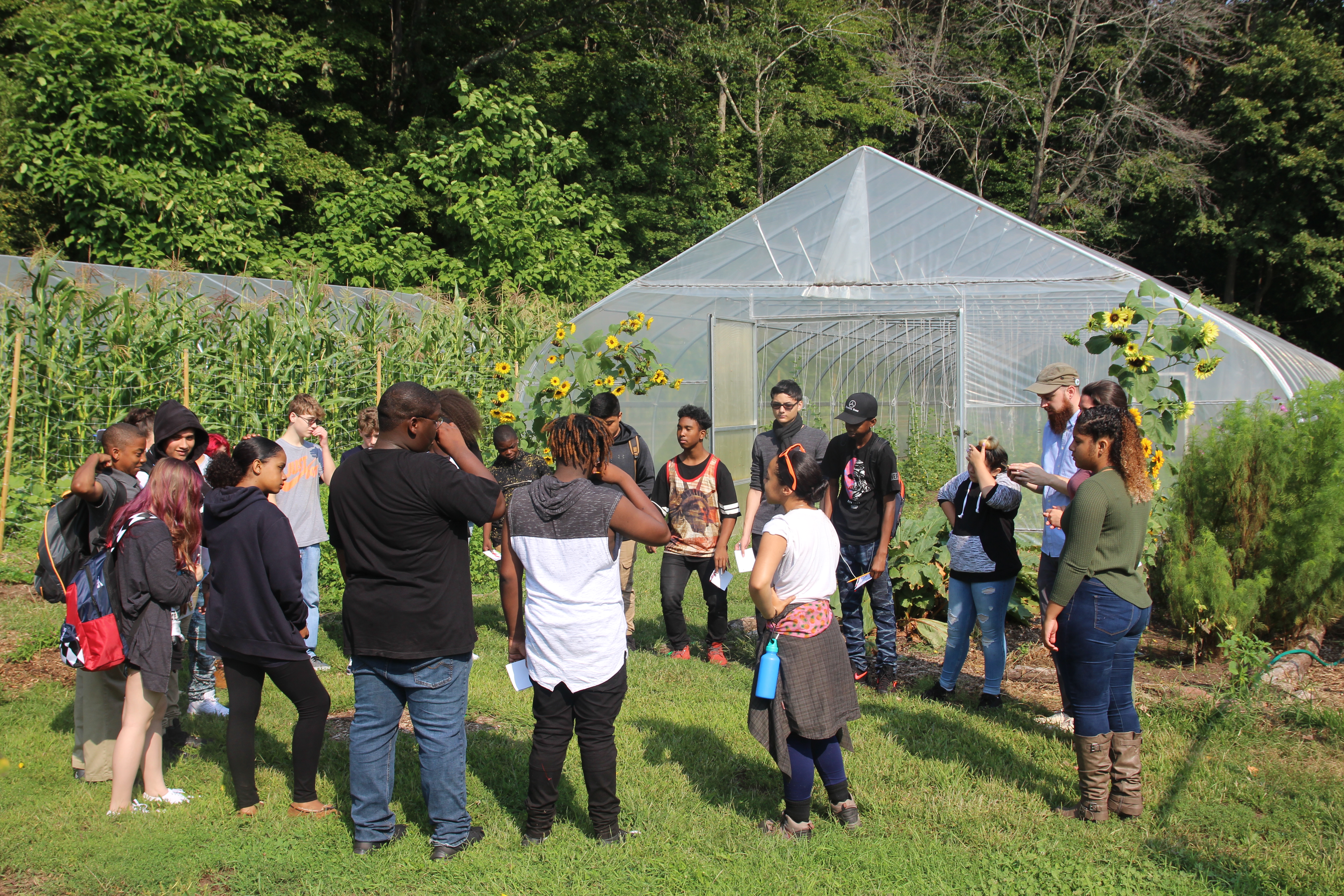 "I wasn't given a lot of opportunities my freshman and sophomore years but now I have an internship that has given me so many opportunities, like this one. I will also be going to Minnesota for the National Green School Conference. At first the road was hard but all of the growing and still growing has paid off to get to be able to do things like this one right here."
Jenisha shares some of what it's like to be a Common Ground senior …
"As seniors we are required to take Senior Social Justice Capstone (SSJC) class. In this class, we are expected to do several assignments: college essay, eportfolio, research, proposals, projects, and senior defense(presentations). My experience in this class has been great thus far. I understood what social justice meant to me– leading to my senior project on culture diversity. My project is about welcoming 1st and 2nd generation immigrants as well as students who come from different cultures. I have three parts to my project: a club, a welcome sign in multiple languages, and bringing flags of different nationalist and activist movements such as LGBT community. While doing these projects, I learned the value that each race and culture holds in our society which I will be talking about in my senior defense as well as my growth over the four years at Common Ground."
"I have gotten introduced to multiple opportunities outside of the classroom; for instance, internships, college courses, etc. There are many skills I learned from these experiences. For instance, I took a class at Yale University called Cognitive science of language where I learned a lot about how language functions in our brain. This helped me figure out my interest towards medicine since I want to be a neurologist."