By Halima Flynn, Development Associate
This past semester, as we reported in a previous blog post, Common Ground students took a college level Shakespeare course.  They studied Julius Caesar, and in true thespian fashion, took the play from the page to the stage.
And it just wouldn't be CG if we didn't link our environment to our work – so the performance took place in the Outdoor Classroom.  The semi-circle benches in the classroom truly captured what it must have felt like to sit in the Roman amphitheatre.  The camp cabins served as the wings and a patch of forest was transformed into a bustling Roman city.  Even The Soothsayer addressed Caesar from the audience which helped to create a "part-of-it-all" feeling in the audience.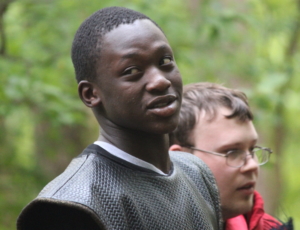 Rain threatened to move us inside, but both the afternoon and evening performances were successfully staged outdoors.  The performance was reminiscent of what Shakespearean play-goers must have experienced at The Globe.  Kudos to Common Ground actors for incorporating t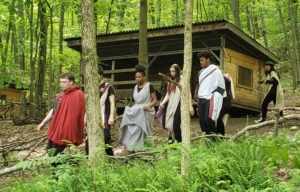 he sound and distractions into their performance!  Plenty of professional actors might have had a challenge with that, but CG high school students weathered through.
Sound effects of thunder as we were warned to "beware the ides of March" took a very real hold of our imaginations as we sat under tree leaves recently rinsed by morning rains.  In fact, quite a few audience members looked to the sky as though there really were storms approaching.
As one audience member said, "Blown away, enthralled!  We're theatre people, it was just a GREAT performance."  Check out the clips in the video below – from conspiracy to Caesar's death!