By Halima Flynn, Development Associate for Special Events and Communications
When you first meet Brother Tommy (or Tommy Joshua Caison as he's also known), you're welcomed with an enigmatic smile and a generosity of spirit that inspires you to believe in you.  That's just one of the reasons that made him a great choice for Common Ground's 2019 Environmental Leader in Residence.  And when you learn about his innovative work in Philadelphia to improve urban environments, and promote sustainable and equitable farming, the choice is even clearer.
The Environmental Leader in Residence program at CG is designed to connect our community to other environmental leaders committed to improving social and racial justice, equity and inclusiveness.  Now in its sixth year, the program continues to build relationships and connections.
"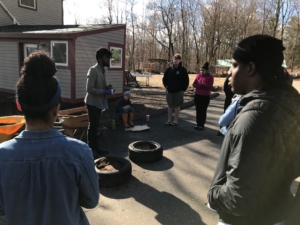 At Common Ground I found an intergenerational community that was familiar, engaged and evolving. I met many wonderful and curious and creative people, not unlike the neighbors I work alongside in North Philadelphia." ~ Brother Tommy
Brother Tommy is a youth mentor and founding member of the North Philly Peace Park.  Motivated by daily views of abandoned, garbage-filled and overgrown lots, the community of Sharswood, PA decided that there was a better use for that land.
Today, the North Philly Peace Project is a community farm – fittingly designed in the shape of a peace sign.  The organic vegetables and fruits that this farm grows is offered free of charge to the community.  In addition, the Peace Park also provides to educational programs to local youth and other community members.  It hasn't been a smooth ride (the local Housing Authority threatened to evict them, and they've had to move from the original location).  But Brother Tommy and the evolution of the Philly Peace Park teaches the lesson that, even in adversity, we can all come together and learn from each other as a community.
Earlier in his journey, Brother Tommy, put up a basketball court in his backyard for kids in his North Philly neighborhood.  This was his response to the discovery that local youth, with no after-school programs or guidance, were setting fires throughout the community.  That's also where he picked up the name Brother Tommy, and it's that kind of thinking and ability to engage with young people that he brought to Common Ground.
While here, Brother Tommy met every student.  He fostered a fun and friendly atmosphere that engaged students, staff, and community members.
"He came into our guidances and shared some of his experience. He chose me to share out my future dream, how I am doing, and what I want to be. It helped me figure out my senior project — I want to create a grading app that will help students get feedback faster. His presentation at the community potluck was really good and important." ~ DeaMonte Godley, Common Ground Student
While here, he presented a session about The Power of Place that focused on ideas of how CG can continue to strengthen our engagement with our outdoor site as a resource for restorative justice, inclusiveness, learning, liberation, and justice and equity.
"He taught us about beautification — how something old like a tire can contribute to a beautiful community. He was talking about a spot in his community where kids used to do bad things, and the changes in that place he made. That inspired me as a senior project. He let us contribute, by putting dirt in the tires, how to make walls out of it. He also taught us some slang from where he's from … He was good at connecting with the students, he was using slang that I use." ~ Dayanara Chacon, Common Ground Student
Brother Tommy was also a featured guest at The People's Center potluck dinner and community conversation.  On his last day here, he helped present our students with POWER awards for the week.
"Tommy was in our unit launch, talking about Earth Ships, sustainability, and the work he's done in Philadelphia. He talked about repurposing tires to create gardens. He talked a lot about public health. I liked being with him the most — he talked about how we can fix things, not just how he's done it." ~ Ana Reyes, Common Ground Student
That ability to light a spark in another person is precisely what made Tommy Joshua Caison a perfect choice for the Common Ground 2019 Environmental Leader in Residence!  And the work is far from over.  In a neighborhood with a poverty rate of 52.5%, widespread vacancy, and 80% unemployment, the North Philly Peace Park continues to press forward.  This year they will begin construction on the Sala Keturah Center for Peace and Social Innovation, a collaboratively designed location for their educational programs.
I left Common Ground feeling enriched in knowledge and spirit and confident that environmental education is powerful tool to reimagine and remake the world around us. I hope the buds of solidarity forged during my Residency will blossom into full flowers of everlasting friendship." ~ Brother Tommy
Brother Tommy – We hope so too!