Over the next few months we will be featuring recipes written or much-loved by staff and community members. If you have a great recipe that's always a hit, let us know! Email me at elena.augusewicz@commongroundct.org with your recipe and why you love it. A small review group will pick our favorites each month.
I wrote this recipe on a whim by utilizing what I already had in my fridge and cupboard on a busy weeknight. During this time of year I try to reel it in and stick to some lower carb and nutritious meals to balance out the decadence of the holidays. I served this dish with a simple salad… and a ton of hot sauce!
This recipe is very flexible: if you don't like mushrooms, make stuffed peppers. If you don't like beans substitute ground turkey/faux meat crumbles.
Ingredients: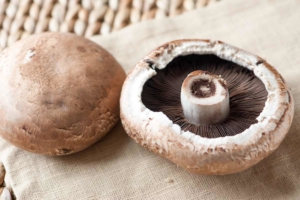 6 Medium or large portobello caps
1 Tsp. coriander, cumin, black pepper, salt, chipotle pepper
1/4 Tsp. cinnamon
1 Jar of your favorite salsa
1 – 15 oz. Can of black beans, drained + rinsed
2 Tbsp. coconut oil
1 Cup shredded sharp cheddar
Optional toppings: chopped onion, cilantro, guacamole, sour cream, pickled jalapenos, olives, hot sauce
Instructions:
Start by par-baking the mushrooms in a greased baking pan at 425 for about 15min. Lower the oven temp to 350 when done.
Melt the coconut oil in a sauce pan and add the beans, a half a cup of salsa (or more to taste), cumin, coriander, black pepper, cinnamon and chipotle. Cook on low for 20-30min, mash the beans with a fork to your desired consistency and stir frequently.
Remove mushroom caps from the oven and drain the baking pan of drippings. When the beans are cooked and seasoned add a heaping spoonful to each mushroom. Sprinkle with the cheddar cheese and put back in the oven. When the cheese is bubbling and melted remove from the oven.
Top your baked mushrooms with your favorite taco topping!
Recipe Credit: Elena Augusewicz, Administrative Assistant at CGHS and avid recipe collector
Photo Credit: All She Cooks