If you're a fan of gardening then you are probably just as inundated with zucchini  as we are here at Common Ground! This recipe is a great way to use up excess veggies; make a big batch on the weekend, freeze, and then pop them in the toaster oven for breakfast at your leisure.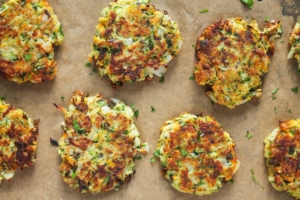 Feel free to mix up the veggies and herbs based on what you have on hand. I've made these with daikon radish, potato, yellow squash, onions and turnips. Even the sauce can be customized to what you have on hand, the traditional Potato Latke accompaniments of Sour Cream and Applesauce are right at home with these fritters.
For the Fritters:
1 medium-large zucchini, grated
1 spring onion, minced
3 small carrots, peeled and grated
2 small kohlrabi, leaves removed, peeled and grated
1/4 cup chopped parsley
1 egg (or 1tbsp of ground Flax Seed mixed with water)
1/4 cup flour
1/4 tsp garlic powder
1/4 tsp salt
1/4 tsp pepper
3 tbsp canola or coconut oil
Spicy Adobo Sauce:
1/2 cup Mayo (vegan works too!)
1/2 cup sour cream or plain soy yogurt
2 chopped scallions
1 table spoon Adobo Pepper Sauce with chopped peppers (or your favorite Hotsauce)
Pinch Salt + Pepper
Directions:
Shred your veggies by hand or put them through the food processor. Toss with a table spoon of salt and let sit for 5-10min. Squeeze excess water out of the veggies and pat dry with a towel.
Add egg, flour, garlic powder, salt and pepper and mix to coat evenly.
Add canola/coconut oil to a deep pan over medium-high heat. Once oil is hot enough, drop 1/4 cup of fritter batter into the pan and flatten out with a spatula. Depending on the size of your skillet, cook a few fritters at a time, leaving space in-between. Cook for a 3-5 minutes on each side, or until golden-brown and crispy.
Transfer cooked fritters to a paper towel to absorb some oil. Serve with Spicy Adobo Sauce.