By Hiram Rivera
2017 Environmental Leader in Residence
Editor's note: Each spring, Common Ground invites a person whose work we value and respect deeply to spend a week as our Environmental Leader in Residence. You can learn about past Leaders in Residence Akiima Price and Leah Penniman in previous blog posts.  In 2017 — after a process of requesting nominations, holding a vote among all students and staff, and interviewing finalists — Common Ground selected Hiram Rivera as our 2017 Leader in Residence. We are so grateful for all that Hiram shared and contributed — including this reflection.
"We shall not cease from exploration
And the end of all our exploring
Will be to arrive where we started
 And know the place for the first time.

– T. S. Eliot
I first stepped onto Common Ground back in 2004 as a Public Ally, an AmeriCorps fellow, tasked with mentoring Seniors through their Senior Projects. Never having heard of the school, I was blown away at that fact there was a farm in the city of New Haven and that there was a school where students were learning how to care for animals, write essays, master algebra and raise food. To be honest, at the time, I thought it was weird. "Hippie sh*t," was what ran through my mind.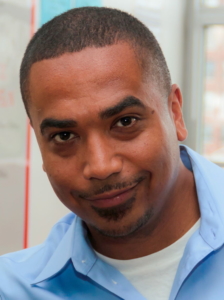 My Ally placement was with an organization, Youth Rights Media, training local high school students how to produce video documentaries about the pressing issues impacting their lives, and then running policy campaigns to win solutions to the problems they were highlighting. We tackled issues of youth incarceration, Zero Tolerance policies in schools, the School To Prison Pipeline, and the root causes of inter-neighborhood violence in New Haven. I learned a great deal and few years later found myself working in students in New York City tackling the issue of Education Reform. For over 13 years I have worked as a Youth Organizer, inside of schools and communities training and developing high school students — from New Haven, to New York, to Philadelphia where I am ending my 5 ½ year tenure as Executive Director of the Philadelphia Student Union — to be change agents who've won policy victories at the local, state, and national levels.
Being selected to be Common Ground's Environmental Leader in Residence for 2017 was a honor for me. I was selected by members of the school's community and most importantly, by its students. It wasn't until I stood before a gym full of students and staff at the POWER Assembly that it dawned on me. My youth organizing career would come to a symbolic end, at the school where it began.  Home. I quickly went through a brief history of myself and my work, shared stories of my own struggles as a high school student confronting overt racism and low expectations, a disliking for school and poor choices I made as a result of not having the voice or words to articulate what I needed and what was impacting me. I kept it to a little under 10 minutes as I had promised the two youth facilitators with whom I had met with the day before to plan how they were going to engage their peers in a heavy discussion around how they were going to collectively build the school culture they wanted and needed at Common Ground…in about 15 minutes.
Common Ground is, as it was in 2004, a unique place. It is small and personable. The school has grown with its new artistically designed building and larger school population. The grounds are an incredible sight to see with the farm, trails, animals, and outdoor classrooms in the woods.
My task was to help increase Student Voice, support staff in developing the capacity to support the students in expressing their voice, and pass on organizing skills that could be used in bringing more students into existing work of creating a school culture that embodied those things. All of this to be done in 5 days. Needless to say, I was missing the laid-back "hippie" narrative I created back in 2004.


The role of an organizer is to create the space for ordinary people to take courageous action.

– Jose La Luz

For the week I was there I had the honor working closely with three students in particular. Three young men who were a part of my selection committee and interview process, and how had stepped up and volunteered to play major roles in what was going to be a whirlwind of meetings, discussions, lectures and debriefs. Together, we came up with a plan to create space for every student grades 9-11, to offer their challenges, solutions, hopes, and appreciations for Common Ground.
With some prep, the young men created an agenda and facilitated 45 minute conversations for 5 separate groups of students. They were successful in getting students to open up about their overwhelming desire to engage with land work more. Their struggles with the not having their cultures and backgrounds understood at times (which they credit to the lack of diversity among staff), a unanimous desire to build stronger relationships with each other and staff, and their appreciation for their small school that provides for many an escape from the hardships of growing up poor in an inner-city and a large number of staff who make them feel loved and protected.
These three students, many of whom could easily be identified as "disengaged," and "not caring," pushed each other, challenged one another, gave space to each other, and stepped into their leadership. The facilitators were greeted with both smiles and shock at how they handled themselves. A masterful display of confidence and humility that became the example their peers followed in rooms with no adults.
Throughout the week I had the great fortune of speaking with teachers and administrators, program directors and other staff. Adults, who like the students, needed a space to be heard. Desired stronger relationships and for their voices too, to have meaning and be taken into serious consideration. Both students and staff repeated some of the same desires, and both weren't sure how to make it happen.
"Common Ground is going through growing pains," is how one student accurately described it. Faced with the pressures of standards and state requirements, the school is in a period of maturation. Growing to meet the academic expectations set for it while holding on to communal aspirations of its initial inception. Student voice and leadership are cornerstones of a lot that goes on at the school.  That is made possible because of the genuine desire by the majority of the staff to support and create that space for their students. A staff willing and constantly challenging themselves to go above and beyond what is expected of them for, not only their students, but the community everyone is trying to create.
For a colonized people the most essential value, because the most concrete, is first and foremost the land: the land which will bring them bread and, above all, dignity.
– Frantz Fanon
Common Ground is the right school at the right time. For 3 years the country has witnessed an upsurge social justice organizing that has sought to take on what Dr. King called the "Triple evils of capitalism, militarism, and racism." From a Black Lives Matter movement committed to ending the extrajudicial killings of Black women and men, to hundreds of Indigenous tribes ending centuries long differences to come together and fight for our planet at Standing Rock, we are witnessing a powerful force that is embedding in our society a sense of social responsibility for each other and our Mother Earth. Given the mission of the school and the makeup of its student body, Common Ground finds itself at the intersection of the movements for racial and environmental justice.
Common Ground has an unprecedented opportunity to build on what it's been doing for so many years, by planting the seeds of social responsibility and growing a new generation of environmentally conscious women and men representing the most marginalized communities of our society. The descendants of ancestors who arrived in New Haven after being forced to leave their lands in the South, Puerto Rico, Latin America and other parts of the world because of violence and economic exploitation.  A people disconnected from their historical relationship to the land and cut off from its healing capabilities.


The tools at Common Ground already exist. The desire is there. By increasing the diversity of staff, giving room the environmental work to become a priority in all students' academic experiences, increasing the relationship building activities among students and staff, and being intentional about slowing down, scaling back on trying to do too many things at one time, and giving space for meaningful communication among staff and the school as a whole. Common Ground will be successful in producing a wave of young leaders equipped to face the impending challenges of the new direction of our country and it's impact on the world.
I left Common Ground with a new understanding for the school I had visited 13 years ago. I left with a deeper sense of curiosity and desire to learn more about how I can do more for the environment and my own relationship to the planet, the land and the animals that inhabit it. I leave Common Ground getting to know it again for the first time, leaving New Haven and returning to the world forever changed…again.


All that you touch
You change.
All that you change
Changes you.

-Octavia Butler