by Edaisha Little, Class of 2016
This blog post is part of a series — Making Change Every Day — sharing reflections written by Common Ground's class of 2016 as part of their senior leadership portfolios. Learn more about this series and the portfolio process.
At the age of 12 I was diagnosed with keratoconus. Keratoconus is a condition in which the clear tissue on the front of the eye (cornea) bulges outward. This condition causes you to rapidly lose your vision. It wasn't until I wrote my first senior writing essay when I accepted that it was not a disease, it's a condition. I started to gain ownership of my disability. I've demonstrated the letter O in POWER for ownership because I took control in my life and finally realized that I will not succeed if I'm constantly putting myself down about something that's not even my fault. My whole freshman year and part of my sophomore year I hid my condition from everyone besides family, because I was terrified to be looked at differently. It didn't take a genius to notice that my vision was bad, I just didn't want people to know how severe it was. What I've learned from this is that I never gave myself the credit that I deserved. I kept my struggles with my poor vision to myself instead of seeking help. But now I believe more in myself. I constantly remind myself that there is a light at the end of my dark tunnel.
Although my eye condition was hard to write about and embrace, I did it. I demonstrated commitment and responsibility for lifelong learning and monitored my own understanding and learning needs by taking action in my life and realizing that if I kept hiding my condition I wouldn't get anywhere in life. I'm still learning how to avoid shutting people out when it comes to my condition since I'm just now accepting and acknowledging that I have one. The first step I took was actually writing my essay because the second I found out that I was writing about my vision, I was terrified to write it. With only a couple of months until graduation, I'm going to get my first surgery to stop my vision from progressing this year and it's the first step to success. I've acknowledged that I have an eye condition and that I need a little help and that's what these surgeries are going to give me. People are starting to donate money for my surgery and for once I felt that it wasn't out of pity, they just care and that made me feel like I finally wasn't alone.
What I learned about myself was that I was just afraid, I was afraid that I would be judged the way I judged myself about my condition. Now that I'm starting to tell people about my condition, they support me, not out of self-pity but out of love. Since I'm sharing my experiences at Common Ground I believed that it was only right to share one of the toughest experiences of my life especially in High School which was changing my ways and accepting that I needed help and a support system. Having this topic as one of my reflections gives me anxiety because two years ago, I wouldn't picture myself writing about it let alone talking about it. This is a huge transition and I'm not close to being comfortable but I'm getting there. My contribution to the community was giving others with disabilities a voice. Some people embrace their disabilities, some deny it, some are comfortable talking about it and some are embarrassed by it. Being someone who was embarrassed by their condition, overcoming it and speaking about it can give people motivation, strength, and courage.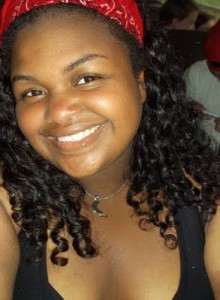 About the Author: "People may not realize why I have to work so hard, or what my challenges are. I have to deal with being called "the girl that squints" and "that blind girl." No one understands my struggle but me. No one knew how many struggles I faced each day but me and it felt as though all my hard work didn't actually pay off because something was holding me back. For me, that something was my eye sight. It probably seemed to everyone else that I was okay. That's the image I was portraying, I didn't want people to see me as a sad,terrified girl, that would make feel more vulnerable. I was in a messed up unfair situation. I felt alone but I didn't want anyone a company me. Hearing people say "you need this text bigger?" or "do you need help?" was just another reminder that I wouldn't be able to make it on my own without the resources that I need. I was scared to be judged and to be looked as a charity case. Until my junior year, I felt alone, because I was keeping a secret, that not even most of my friends knew. I was terrified that I would be judged. In my junior year I started getting visual help that I needed and denied it right away because I didn't want anyone to know how severe it is, also I wanted to figure it out on my own. I finally started to acknowledged that I needed help to reach all my goals in life. All the problems I am facing are also giving me motivation to strive and prove everyone who doubted me wrong, graduating High School could be the first step. I tend to remind myself that there's always a light after a dark tunnel."