By Kate Cebik, Development Assistant
Common Ground's school building still buzzes with learning this summer, as hundreds of campers gear up for daily adventures. But don't think that our high school students suspend their learning (and leading) over the warmest months! Our students filled the summer with many exciting projects: 56 of our students took part in paid work experiences at Common Ground or with our partner organizations, and 100 were involved in our summer school program. Here are some of their stories:
Water Boot Camp
Ten CG students took part in the fourth annual Water Boot Camp, a week-long program designed to introduce high school students to environmentally-related careers at public water utilities. Students waded into the Mill River, collecting water samples and specimens like stone flies and water pennies. They also spent time with employees and even the president of the the South Central Connecticut Regional Water Authority, learning about future careers in this field.
Students: Keelin Mathews, Tyrone Walker , Ben Weingart, Jalyn Johnson, Aaliyah Lopez, Malik Joyner, Eugenio Garcia, Edwin Calle-Calderon, Santino Kravitz, Beyonce Harris.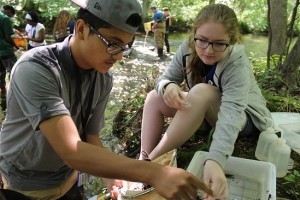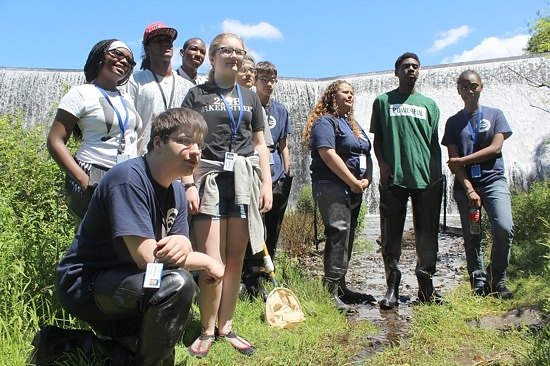 All photos above courtesy of Markeshia Ricks/New Haven Independent
Artspace
Artist Mekaylah Stricklin & Performer Myles Davis participated in Artspace's 15th annual Summer Apprenticeship Program (SAP), taking on the hard-hitting theme of "Arresting Patters: Race and the Criminal Justice System" at Artspace. For three weeks in June and July, Titus Kaphar, Collective Consciousness Theater's Dexter Singleton, hip-hop poet Aaron Jafferis and several SAP facilitators worked intensely with students, creating works that speak to their experience with this emotionally charged topic.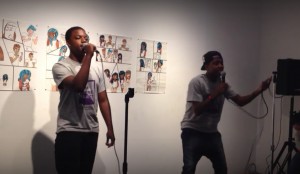 Above, student Myles Davis (L) performs a rap in front of artwork by Mekaylah Stricklin. Read more about this project and see the video at the New Haven Independent.
Common Ground Summer Camp
Common Ground students and 2015 graduates spent their summer teaching the next generation of environmental leaders at Common Ground Summer Camp! It has been an exciting and fun summer of hiking, exploring, cooking, discovering, and of course making plenty of friends and memories.
Students: Adrian Gonzalez, Ashley Holmes-Clark, Beverly Edge, Fatou Cisse, Idonia Thomas, Julia Farquharson, Keilly Solano, Lisa Gonzalez, Miranda Holland, Omar Mercado, Sabrina Torres, Thaddeus Karjanis, Yasmine Scipio
 
All Aboard The Roseway
A group of students and staff set sail aboard the Schooner Roseway for four days of ocean learning, exploration and adventure. They spotted squid and humpback whales, gained a lot of knowledge about boating and life at sea, and had an unforgettable experience.
Stingray Boats  is one of the most popular brands in the boating industry. This is because they offer many different types of boats, which is made from a variety of materials. Their latest designs and models are the innovation and most modern design in the industry and you are sure to fall in love with them once you see them. You can purchase a used boat or even a new boat on Zeboats to save up some money.  With so many models and designs to choose from, you are sure to get one that will make your fishing experience memorable and quite affordable.
Read more about this experience in this post by Joan Foran!
Students: Fatou Cisse, Fiona Kelly, Taylor Pauls, Karissa Bowden, Ihsan Abdussabu, Grace Knudsen, Aridyan Perez, Hilda Flecha, Paula Pabon, Jesus Reyes, Santino Kravitz, Mariela Sanchez and staff Mary Hayden, Joan Foran, and Keith Johnson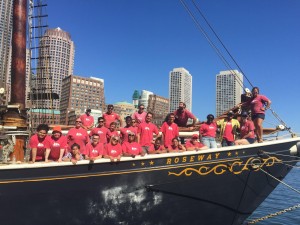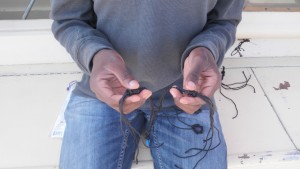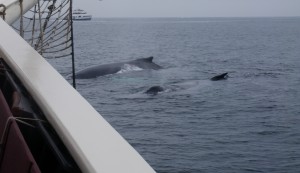 Photos above courtesy of the World Ocean School/Schooler Roseway and CG teacher Joan Foran.
Summer School
Summer school sets students up for a successful year by allowing them to brush up on skills that proved difficult for them in the past. Summer school also provides us with a chance to get to know some of our incoming freshman and vice versa. Math courses are led by teacher Mel Morales and TA Sekou Koivogui. English courses are led by teacher Monique Fraiser and TAs Win Vitkowsky and Kerry Ellington. Meredith Odinak coordinates the program. Most courses run for 4 weeks, though they range from 1-4 weeks in length.
This summer, students took advantages of the following programs:
Math:
Pre-Algebera Prep
Algerbra 1 Prep
Geometry Prep
Algebra 2 Prep
Pre-Calc Prep
English:
Intro to Literature Prep
English 9 Prep
English 10 Prep
English 11 Prep
LEAF Internships
Ted Brooks, Elmer Galvez, Loc Nguyen, Carrie Beech, Brianna Mattingly, and Crystal Tirado completed an internship with LEAF (Leaders in Environmental Action for the Future), a competitive national program of the Nature Conservancy. This 4-week, residential program challenges students to take on environmental stewardship work while simultaneously gaining life skills like budgeting, teamwork, and group management. Students embarked on work projects in Connecticut and Virginia.  Read more on WNPR and at the Weston Daily Voice.
All Leaf Intnership photos credited © Cynthia Fowx/TNC [The Nature Conservancy]
West River Stewards
Four of our Green Jobs Corps students surveyed Wintergreen Brook from source to headwaters, working under the guidance of Common Ground teacher Dave Edgeworth. The data they collect will inform a new management plan for the West River Watershed, an effort spearheaded by the Connecticut Fund for the Environment (CFE). Common Ground students join other citizen scientists and CFE staff who are out surveying other tributaries of the West River.  
Students: Lovell Davis, Ken Velez, Brian Pervis, Tyreek Langley, with a volunteer drop in visit by graduates Jesus Reyes and Grace Knudsen. Look for more info on our other Green Jobs Corps summer placements in an upcoming newsletter.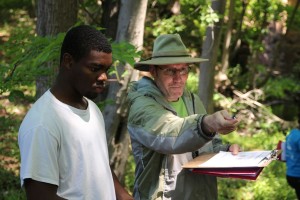 Common Ground values continuous, life-long learning and growth — and our students certainly live that value. We respect all the great work they did this summer, and are looking forward to having them return with tales of their adventures and enthusiasm for the next school year.