By Shannon Raider-Ginsburg, Farm Manager & Director of Agricultural Program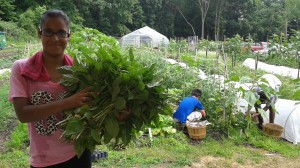 Common Ground has always had a garden. A 1995 article in the NH register titled "The Little Farm that Could" opens with, "…there's a tiny farm where schoolchildren work the soil and an overprotective duck rules the barnyard." Though we've grown in many ways since that time, utilizing the farm for everything from growing crops for a mobile market to calculating compost mass in calculus class–our commitment to the farm, and our bossy duck, remain.
Why do we Farm?
This particularly vital question is not just for Common Ground to answer but to continually ask all who engage with the farm. As we discover new opportunities and experience challenges, we seek to make the farm the best it can be for our community.
Broadly, we farm for education, for healthy food, for community connection. These goals overlap and enhance each other and can also be at odds. We must balance between the work of growing an acre of vegetables for market with the several thousand feet walking the rows over the course of a season.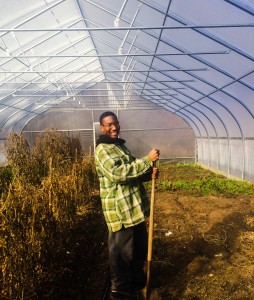 It was recognized early on that getting your hands in the soil and learning the science, culture and aesthetics of growing food is one of the most direct ways to cultivate an ethos of sustainability and stewardship. As our mission deepened, we knew growing food for our cafeteria, for a student targeted CSA, a mobile market and farm stand is a direct way to impact food security and address food justice.
But we know we must dig deeper. What is the impact of the farm? Who benefits? Why do we keep farming? In January, these questions were posed to a group of our staff, teachers, and students with refreshing and energizing results.
The farm touches many people in many ways. The group's brainstorm included:
for beauty
for comradery
because we love good food
to demonstrate sustainable food production
for food equity
for stewardship and responsibility
to create an outdoor learning lab
for the opportunity to teach strong work ethics
The language was rich with words like yummy, opportunity, analyze, grow, leadership, all ages, engagement, sustainability, employment, diversity, justice, share, volunteer, model, demonstration, interaction, connection, and reflection.
As an organization we have recently put our love for our work and desire to deepen our work into a set of organizational values. For more on our values, check out our executive director's blog post "Walking the Walk." These values will help us to connect our work internally, and outward to you. It also helps us to answer this important question, why do we farm? I would ask you:
Why do we farm? How does it touch you? Where will we grow next as we continue to farm?
I invite you to answer these questions in the comments below. As a special thank you from the farm, everyone who answers will be entered in a drawing for a carton of farm-fresh eggs!