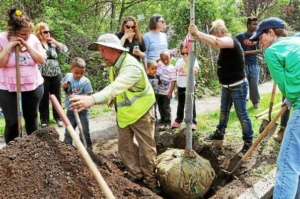 Tree plantings have become a common way to remember lost loved ones but in the case of shooting victim Javier "Javi" Martinez, the gesture has extra-special meaning.
Martinez, 18, not only had two trees planted in his memory Saturday, but volunteers also worked on creation of a memorial educational wetland at Common Ground High School where he was an Honors student.
"He's a young man who grew and planted and who loved everything green and growing, so to plant in his memory" is fitting, said Joel Tolman, director of Development and Community Engagement for Common Ground High School. Read the entire article at the New Haven Register.