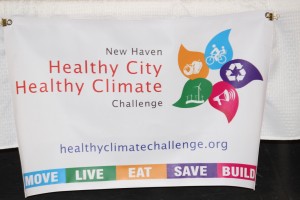 The same solutions that reduce globe warming greenhouse gases also revitalize our neighborhoods and enhance our well being. That's the idea behind the New Haven Healthy City Healthy Climate Challenge — a new campaign to get our city's residents to take significant and simple actions that reduce their climate impact and improve our community's health.
Last night, about 50 community members came together at Artspace in downtown New Haven to launch the Challenge. The launch party lined up with an exhibit called Futurecast — sharing works of art capturing and reflecting on extreme weather events. You can read an article about the exhibit in the New Haven Independent.
Over wine and snacks donated by Elm City Market and Romeo & Cesare's, New Haven residents committed to simple actions — from biking or using public transit two days a month, to switching to clean energy on their electric bills — that will add up to a rougly 20% individual reduction in climate change impact. You can see pictures of the launch below.
Common Ground's Joel Tolman kicked off the event, challenging community members to recognize the power of our collective impact. "I feel dwarfed by climate change when a city in the Phillipines, twice the size of New Haven, is laid flat. But then I realize that this monumental force is the product of our collective actions. We have the power to tip our impact in the other direction — if we act quickly, forcefully, joyfully, and in concert."
The Challenge is a joint effort of a growing group of local organizations — including Common Ground, the New Haven-Leon Sister City Project,  ArtSpace, the Yale Office of Sustainability, Neighborhood Housing Services, Connecticut Fund for the Environment, the New Haven Bioregional Group, and the New Haven Land Trust. These organizations are working together to get their members, board, supporters, and constituents to sign on to the 5-part Healthy City Healthy Climate Pledge.
At Common Ground, student Miranda Bailey — in attendance last night's launch event —  is leading an effort to get students signed up for the pledge. In the next month, she and Common Ground Assistant Director Keith Johnston will be visiting students' advisory groups to pitch the challenge, and begin tracking the number of students who are participating. Miranda also presented the challenge to Common Ground's board in late October, in hoped of spreading this important effort to our larger community.
We hope that this is a growing movement. To learn more and take the pledge, visit www.healthyclimatechallenge.org.
[AFG_gallery id='19']