By Anessia Foreman ('14) and Arianna Pina ('14)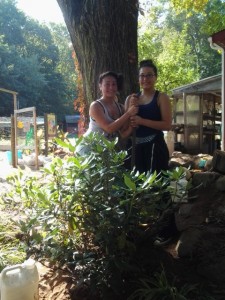 For the past two weeks, two Green Job Corps crews – the School Yard Habitat Crew and School Garden Resource Center Crew – joined together to help Common Ground get ready for the construction of our new school building. Between the seasonal weather change and a lot of hard work, we have managed to make some of our grounds look completely different. Some areas look like they have been cleared out and other areas look completely remodeled and beautiful. Since it is fall, some of the plants are going to rest for the winter anyway, and our efforts are making the change even more significant.
Not only is our job physically taxing for our hard working bodies, but also it is a dramatic emotional change for many of the students. This responsibility of noticing and transitioning our site falls into our crew's hands, because we are helping to make the change. This change is emotional, because the upper class-people have grown a relationship with a small school that has remained the same in appearance since we arrived. Now we are expanding and remodeling for the better of Common Ground.
Some of the work we have completed is listed below:
surveying invasive species by taking a vegetation inventory on the berm and upper school grounds
planting shrubs and bushes, some donated from a local high school
transplanting and watering our pollinator garden to make room for the new educational wetland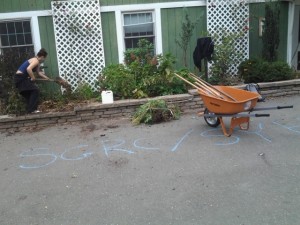 Members of the School Garden Resource Center Crew: Arianna Pina, Joana Vargas, and Freddy McGirt
Members of the Schoolyard Habitat Crew: Anessia Foreman, Anthony Spencer, Giana Vargas, and Lovell Davis
More from us soon!