Click here to donate: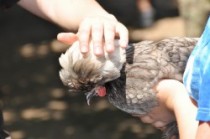 Dear parents of chicken-loving-children,
Big news from Common Ground!  If you visit our campus next week, you will see a beautiful, brand new chicken coop (full of the same flock of friends that your children love – they are in temporary quarters now)!
Our chicken coop was the oldest animal house on our campus, lovingly built by students and staff in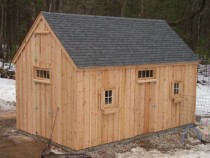 the spring of 1997.  Our flock and programs have grown, and the coop was full of holes in the floor and the roof.  We have been looking for funds and the right time to build a new coop for several years.  This week, we were offered the opportunity to have a brand new, much larger and much improved coop built at a significant discount if we could demolish our existing coop and raise the needed funds for a new coop in just 5 days (the offer only stood until December 19)!
We decided to go for it!  Farmer Joe and Farmer Shannon, site worker Kyle, and long-time Common Ground friend Alexis tackled the old coop yesterday, and today there is just a bare patch of ground where the coop was.  Common Ground students helped pull nails from boards that could be re-used and sorted the demolition pile into trash and still-good-for-other-things piles.  This weekend, we will level the site and flag out the new coop footprint.  On Monday, a local, family owned building crew will show up and build us a 14 x 20 foot coop – much bigger that the old one.  It will have double doors that open to view the nest boxes, a low viewing window for children to peer into the coop, and interior dividers to make a snug, safe room for baby chicks. The photo in this email is just an example from the builder – ours has been custom designed especially for our needs and programs.  Our chicken flock will be nestled into their new home before Christmas!
So, the farmer's tore apart the coop, the students salvaged re-usable materials, and I said my contribution would be to fill the financial hole we need to pay for this coop.  We had a grant from Lowe's for a good portion of the total cost, but it does not cover the whole project, from coop demo and building to new fences and gates.  I know this is the time of year when you are receiving many, many appeals from many organizations.  I was not anticipating coming to you with this ask right now, but the opportunity was far too good to pass up.  I told the team here that we have LOTS of chicken-loving children who come to Common Ground, and that perhaps many of their parents would chip in $10 – $15 because their child will greatly enjoy the improved coop and expanded chicken yard (and, we will have room for about a dozen new baby chickens this spring, too!).
We have a lot of fundraising goals and projects at Common Ground right now, and we know that not everyone can give to everything.  I'd be delighted if this small(ish) but very time sensitive appeal was a knock-out success!  Please help me fill the fundraising hole we created when we took on this awesome project.  Click the button below to donate and don't forget to tell us that your gift is towards our new chicken coop!  Our total fundraising goal is $5,000, and every dollar counts!
Many, many thanks. I'll send out photos when the coop is done!
-Rebecca Holcombe
Community Programs Director (and fellow chicken lover!)