School Field Trips: Every Child Outside
Our school field trips offer endless opportunities for problem solving, exploration and creative play.
About Our School Field Trips
Our field trip programs for students in preschool through 8th grade take advantage of seasonal events on the farm and in the forest to provide hands-on learning experiences that support curricular goals.
Below is a description of the different programs that we offer throughout the school year. Programs are offered at 10:00 Monday through Friday, Preschool programs last one hour and all others are 90 minutes or two hours.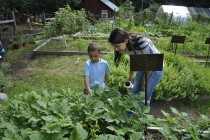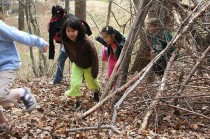 program

description

season

max # of students

cost per student

Seasonal Farm Tour

grades preK-8

Come join us for a farm tour and witness the exciting changes that happen each season. Students can meet the goats and sheep, spend time in the chicken yard and try different foods from the garden. The springtime brings seedlings and the addition of new chicks and piglets. In the fall, we are harvesting the garden and preparing for winter. Classes are encouraged to visit both in the fall and the spring in order to fully appreciate the seasonal changes on the farm.

fall and spring

60

 $6 

West Rock Wildlife Hike

Grades preK-8

The diversity of wildlife and unique habitats found in West Rock Park offer many opportunities for urban ecological study. Students will hike through a variety of wildlife habitats including forest, meadow and aquatic habitats while learning about native species and how their needs are met in an urban forest. Classes can choose to take a short loop hike or venture further into the park to visit historic Judge's Cave, Wintergreen Brook or the summit of West Rock.

fall and spring

60

$6

Soil!

grades 2-5

Students will explore the role of soil in sustaining life on earth and learn about different soil types through investigation.Students will also learn about decomposition through an investigation of our compost pile and worm bin. We will discuss composting with red worms, check the temperature of the compost pile and learn how to start composting at home or at school.

fall and spring

60

$6

Harvest Pizza

grades K-8

Students will trace the path of pizza from the local farm to our dinner table and the important role of sun, soil, water and air in everything that we eat. Each student will make an individual pizza from scratch and top it with fresh veggies and herbs from the garden. Fall is harvest time and students will also participate in harvesting vegetables, taste testing seasonal foods and visiting the animal yards.

fall only

30

$8 includes pizza

Eggs, Chicks and Chickens
grades PreK-4

 

Students will learn all about the journey from egg to chick to chicken through observation, demonstration and hands-on investigation.  They will spend time observing and interacting with the chickens in the yard, examining the parts of an egg and learning about the relationship between chickens and humans.

spring only

30

$6

Maple Sugaring

grades preK-8

 

New England forests are rich with natural resources, the sweetest of which is our maple syrup! Students will identify a maple tree, collect and measure sap and learn how we boil the sap down into thick sweet syrup. Students will also learn the history of sugaring in New England, the biology of maple trees and taste test different grades of syrup.

March only

30

$6

Sheep and Wool

grades preK-4

 

Students will participate in activities that demonstrate the sheep to sweater process. They will meet  the sheep, compare the textures of several varieties of wool, learn the history and process of shearing sheep and experience wool spinning. Each student will comb and finger-spin wool and create yarn to take home.

late fall and winter

30

$6

Junior Ecologists

grades 4-8

 

Students will learn about our local ecosystems by conducting their own ecological research. Depending on the season, students can study trees, mammals, insects, watersheds, soil or salamanders. This program can be scheduled as a single visit or as many visits so that students can follow up on their experiments and make comparisons in different seasons.

fall and spring

30

$6

Introduction to Common Ground High School

grades 7&8

 

Students will explore various careers in the environmental field and find out about local opportunities for 7th and 8th graders to get involved with science, nature, and our urban environment. Students will also be introduced to Common Ground High School as an option for those who are excited about science and environmental studies and want to learn more about their options for a hands-on, college-preparatory high school experience.

fall (gr 7)

spring (gr 8)

25

free
Registration is now open for the 2014-15 school year. Please fill out a Field Trip Inquiry Form here.
For more information, please contact Jill at jherbst@commongroundct.org