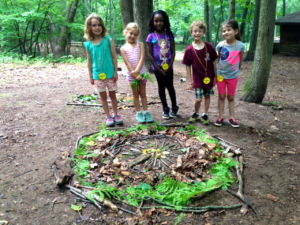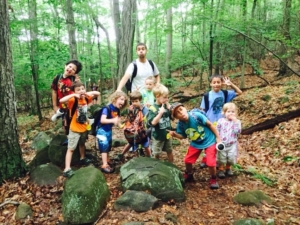 ---
Ages 5 – 12
Home base for our Treehouse Campers is at our "treehouse cabin" in the woods! This special gathering place is the launching point for daily adventures. Our Treehouse Campers explore all the favorite activities at Common Ground Camp: visiting the farm animals, nibbling in the children's garden, digging in the mud kitchen, going on hikes, wading in the stream, building forts, hanging out at the campfire, and playing with friends.
The primary difference between TREEHOUSE CAMP and each of our other camps is that Treehouse Camp is for a MIXED AGE GROUP and each of our other camps is grouped into narrower age ranges. Campers ages 5 – 12 will all be together in the same group (of 24 campers total) in Treehouse Camp.
The mixed age group in Treehouse Camp allows siblings/cousins/friends of different ages to register for a camp together! Not all of our Treehouse Campers will register with a friend or family member – this camp is also a great choice for any child who enjoys playing with a wide age range of peers. At Common Ground we love mixed age groups – they offer leadership opportunities for older children, a range of peers to play with for younger children, and often see lower social conflict and more collaborative play than groups made up entirely of same-age peers.
Our Treehouse Camp teachers are professionals who have lots of experience with children and boundless enthusiasm for outdoor play and exploration! Teachers are assisted by high school student counselors. The group is also joined by junior counselors (14+ year old volunteers), so we have lots of helpers available. Please see the "Frequently Asked Questions" page for more details on the qualifications of our camp staff.