Join us for the 9th Annual Feast from the Fields! Amid all the great food and fun and celebration, we will be having both Live and Silent Auctions. These will feature items and experiences that connect to Common Ground's mission and values. Because the party shouldn't end the night of the 17th.
Booked for the 17th? Sorry you'll miss the celebration, but…
you can still take part in the auctions with our proxy bid form!
[button url="https://docs.google.com/forms/d/e/1FAIpQLSfYSttefZ9WGy5-n3DyS2ZkkiX5IQBmLiiG1Afv3d0TiQb4tA/viewform"]Proxy Bid Now »[/button]
LIVE AUCTION ITEMS
A Feast Just For You!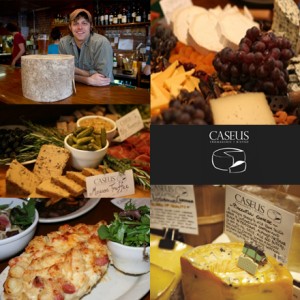 Enjoy a private dinner for 8 in the Caseus cheese shop. The fun starts with a Black Hog Brewing Co. beer & cheese tasting and menu planning session in your home with Jason from Caseus. Once you've enjoyed your beer and cheese and decided on a menu and date, he and his amazing Caseus team will cook dinner for you and friends and serve it up in the Caseus cheese shop.
Gratuity is not included; please tip your servers.
---
Scituate Gathering Beach Getaway
Nowhere will you find a residence designed specifically for large groups such as extended family reunions, wedding functions. Bring the whole family, cousins and in-laws. Comfortably sleeps 20 with 9 bedrooms and three convertible living room spaces. 200′ to beach, walking distance to general store, lighthouse, harbor, and village.
The Lions Den is a 4800 square foot gorgeous new home located in Scituate, MA – close to both Boston and Cape Cod. It features incredible views of the ocean with 6 decks and a widow's walk. Best panoramic view in Town. 200' to beach and walking distance to general store, lighthouse, harbor and village.
All modern appliances, gas cooking, pantry/bar, wine cooler, refrigerated beer keg dispenser, all tile heated floor baths and other over the top amenities.
In total: 4 levels, 3 living rooms, 2 dining areas (service for 30), fully equipped kitchen with separate prep area, 2 laundry, 2 saunas, 2 hot tubs, whirlpool and steam, additional sleeper couches, seasonal décor, Off-street parking.
Available for a long weekend (Friday-Monday) between October-May; holidays unavailable.
---
A One-of-A-Kind Bench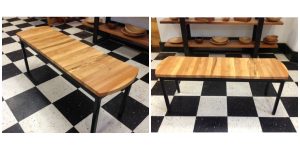 The craftsman at City Bench have made singular pieces of custom furniture from New Haven street trees since 2010.  The bench donated for tonight's auction is made of a variety of species from New Haven's urban forest–fallen local trees!   The piece is one of the last remaining from their limited "urban canopy" series when they experimented using shop cut-offs to make pieces.
---
A Week On Martha's Vineyard

Enjoy a beautiful four-bedroom cape in Vineyard Haven, with easy access to all that Martha's Vineyard has to offer. Walk miles of beaches, explore colonial history, eat and shop in quaint villages – or simply relax in a world apart from the daily grind. Available for a week to be negotiated during the next year.
---
Chickens for Your Home

Wanting to try having your own little flock, but don't know where to start? Connecticut Rent-A-Hen to the rescue! They will come to your home, deliver and set up and coop and three laying hens. They include a bag of feed and vitamins for the hens, as well as  an around-the-clock, 24/7 HenSupport line! Any questions or concerns, John is ready to help you out. Enjoy the fun of backyard chickens, and the bounty of fresh eggs, with your family today.
Package includes coop delivery and rental fees for first month.
---
The Institute of Greatly Endangered and Rare Species (T.I.G.E.R.S.) Tour Package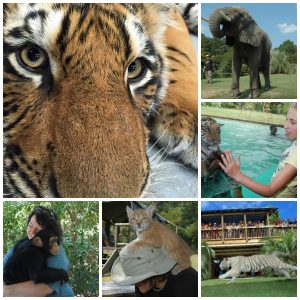 This Wild Encounters tour is a guided walk through a fifty acre preserve in Myrtle Beach, SC. Here you'll meet tigers, wolves, leopards, chimpanzees, orangutans, and other endangered species, many of them up-close and un-caged! (When they say "meet" they mean it!) During the tour professional photographers shoot studio quality photographs and video of the tour and the T.I.G.E.R.S. This gives you the opportunity to take home a set of portraits and phenomenal videos that are incomparable to any other photo opportunity. Package is two tickets.
No Children under the age of 6 are allowed on the tour.
Tours run 3-5 days a week from March 12, 2016 through October 8, 2016. Tours last approx. 3 hours. 
---
Adirondack Retreat

Take a long Fall or Winter weekend at this beautiful Adirondack retreat. House can  accommodate as many as 10 people. House is fully winterized, lakefront property. Perfect spot for leaf peeping season or a ski vacation! 45 minutes to Whiteface or XC skiing right out the basement door onto Upper Saranac Lake. Unavailable Columbus Day, Veteran's Day, MLK, & President's weekends. 
---
Berkshires Getaway

Escape to a remote corner of the Pioneer Valley for a long weekend or relaxing week surrounded by the peace and quiet of the Hidden Hills.
Located less than a two hour drive from New Haven, this spectacular lodge, situated on 180 acres in Chester, Massachusetts, has over 2,000 feet of frontage on the Wild and Scenic West Branch of the Westfield River.
Enjoy your morning coffee listening to the birds from the front porch as the sun rises. Climb to the summit of the Nature Conservancy's Gobble Mountain Preserve just across the road. Hike the nearby Keystone Arch Bridges trail to visit 80 foot high stone spans constructed in 1864 to carry the first railroad across the Berkshire Mountains. Cool off in the afternoon with a dip in your own private waterfall. In the evening, you can barbecue on the deck while watching the dragonflies and fireflies skimming across the expansive meadow that serves as your front yard. And don't forget the night life.
Five minutes from the acclaimed Chester Theatre, fifteen minutes from Jacobs Pillow Dance Festival, and half an hour from Tanglewood and other Berkshire attractions.
The lodge was designed by Ed Schlossberg and served as the summer home for Ed and his wife Caroline Kennedy for three decades. Plenty of space with three bedrooms, two and a half baths, and sleeping space for ten (more if the kids are happy camping out in the loft). The soaring great room is perfect for family get-togethers or inviting friends up for a night.
Five weekdays or a long weekend between April and October (to be agreed upon with the owners).
SILENT AUCTION ITEMS
Niantic House Getaway
Enjoy a long weekend in a beautiful setting without hours of travel time! The house includes a large master bedroom upstairs with a grand view of the river where it is over a half-mile wide. The second bedroom has a full bed below and a single bunk above, ideal for sleeping up to three children; the downstairs den has a queen-sized futon couch/bed. Niantic and the Connecticut shoreline have good restaurants, jazz, and theater. It's situated a short drive from Mystic Seaport and the Mystic Aquarium. 
---
Gaudioso Wine Experience

Always wanted to learn about wine-making? Immerse yourself in learning the entire process from crushing the grapes through bottling – and then take home a case of 12 of your very own bottles of wine! To cap off your experience, hang out by the fire pit enjoying last year's vintage and then share in a delicious Italian style home cooked lunch which may include homemade pickled eggplant, stuffed peppers, cheese, olives, brie, roasted red peppers, garlic bread, lasagna, salad, and Great-Grandma's angenettis. Invitation for 4 people.
The Gaudioso family's red blend won first place at the North Haven Day of Wine & Roses Festival!
To occur in October; date determined by peak grape season.
---
Vermont Getaway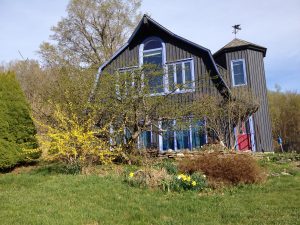 Spend a beautiful weekend in Southern Vermont.  Enjoy hiking, kayaking and exploring: winery, brewery, fromagerie, antiques and crafts nearby. This home is only 2 hours from New Haven and sleeps 6 comfortably. It is available for up to four days/three nights during fall or spring.
---
Overnight at The Study & Breakfast for 2 at Heirloom
Enjoy a restful, beautiful boutique hotel staycation (or invite an out-of-town guest to visit in style) with an overnight at the The Study Hotel. Cap off your stay by indulging in a gourmet breakfast for two at the stylish Heirloom restaurant the next morning.
---
Garden Consultation and Seedling Starters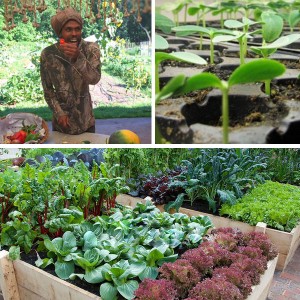 Common Ground Farmer Dishaun Harris offers a 2 hour personal consultation for your spring home garden (in progress or in hopes of starting!) Follow that with a coupon for 10 seedlings from our spring sale and a bag of Common Ground compost to make your dream garden a reality! Available in the New Haven area only—green enthusiast Dishaun commutes without a car and will arrive by public transportation/bicycle. Dishaun recommends the consultation happen in April for best seasonal results.
---
Escape New Haven, in New Haven!
Escape New Haven is a cooperative, real-life adventure space where nothing is as it seems. You and your team are trapped; you have 60 minutes to escape a room by solving a series of puzzles that will challenge your mind and confound your senses. Explore, adapt, work together, think creatively. Do you and your friends have the minds to escape? Good for 4 escapees.
---
Three Amazing Brewery Tours for 4 people: Stony Creek, Thimble Island and DuVig Beer Brewing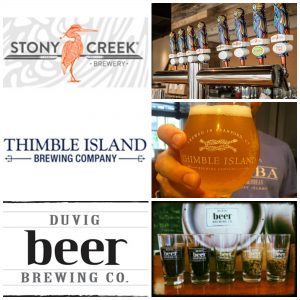 Enjoy tours of three amazing craft breweries for up to four participants. Tour all three breweries in one day, or spread out your visits.
Stony Creek Brewery strives to be a fusion of clean, bold, and aggressive West Coast flavors with East Coast balance and drinkability. This tour includes a Growler!
Thimble Island is the largest self-distributing micro-brewery in CT, and offers 4 staple products along with numerous seasonal and specialty products. This tour includes two six-packs and four tasting glasses!
DuVig beer is easy-drinking yet full of flavor without a high alcohol content. It is 'true to style' and won't leave you guessing.
---
Three Amazing Brewery Tours for 10 people: New England, Black Hog and Two Roads Tour and Tasting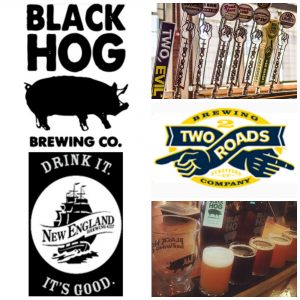 Gather up a crew and enjoy tours of three craft breweries for up to ten participants. Tour all three breweries in one day, or spread out your visits.
New England Brewery, located just around the corner in Woodbridge, offers an amazing collection of beers in both cans and growlers. Don't forget to check out some of those beer labels created by artist Craig Gilbert!
The Black Hog Brewing Company was founded by brothers Jason and Tom Sobocinski of Caseus fame, along with Tyler Jones, an old family friend. Their tasting room is located in Oxford CT and features ingredients from local farms.  The tasting room has custom Jenga, a Pac-Man/Galaga arcade machine, and cornhole.
Two Roads has been cranking beer since 2012. They offer a wide range of beers from zesty saisons to Conntucky Lightnin', a strong ale made with corn grits and aged in a bourbon-barrel. The tour takes place at their brewery in Stratford, CT. If you'd prefer not to drive, you can take a shuttle from the Stratford train station on weekends!
---
30 Mile Brewing Company Tour and Tasting
This brand new microbrewery was founded by Luke Maynard and David Prather just this past year.  Located in Old Saybrook, 30 Mile brews a broad selection of beer styles.  Be the first one on your block to taste Dirt Road, Galactic, or a Blackberry Sour! 30 Mile offers 32oz and 64oz environmentally friendly, PET growlers that are recyclable plastic, leaving far less of a carbon footprint than glass or tin. Tour is available for up to four participants and includes free tasting glasses!
---
Handmade Jewelry by Amity Doolittle (each piece is a separate listing)
Necklace: Mythic multi-strand mixed media necklace including Tibetan mala (prayer) beads made from yak bone, bronze castings, ceramic beads, Balinese silver and Picasso seed beads. One of a kind!
Amethyst Earrings: Balinese silver paired with cabochon amethyst stones (with a little Swarovski crystal for just a little bit of bling) make these drop earrings a very special handmade, one of a kind treat
Handmade Earrings: Sparkly faceted purple glass pair with brass to make these one of a kind drop earring a great staple for everyday wear.
---
Custom Made Mosaic Sign
A custom mosaic sign for your house or office.  Work with mosaic artist Beth Klingher to create the design for your very own personalized sign to be installed either indoors or outside.  The sign could be a family name, house number or favorite saying!  Final design approximately 10 x 24 inches.
---
Tiny Bowl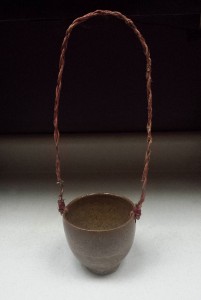 These tiny bowls adorn many altars, side tables, and kitchen counters across the world; they posses a remarkable ability to bring beauty to a space. Sometimes they serve as censers for burning resins, other times as a vessel for anything that needs to be held or cradled. Each bowl in handmade and unique. This bowl was made on an old Japanese wheel and consists of glazed stoneware with a dyed, raffia-wrapped wire handle, handmade by artist Juan Lube. Great for your tiny treasures and fabulous as an object d'art for a special space.
---
Harvest Your Own Christmas Tree
Make a holiday memory this year when you and your family venture to Jones Family Farms in in Shelton to select and harvest your own Christmas Tree! Valid anytime during the 2016 Christmas season.
---
Original, Framed, Common Ground Photography (each piece is a separate listing)
These breathtaking natural moments were captured by our own amazing photographer and math teacher, Mel Morales.
Each photo is paired with a photographer's note on the subject, place, or the story behind it, making every one an intimate look into the world of Common Ground. It is the perfect way to bring this magical place into your home or office. A description is included with each art piece.
Photo printing kindly donated by Milford Photo.
---
mActivity Membership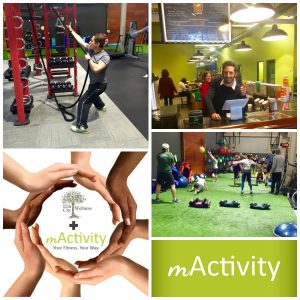 Experience a one month membership at mActivity, not just a gym but an innovative fitness center for health and wellness located in the heart of the East Rock neighborhood. mActivity is committed to providing fitness services of the highest quality by creating a community of health that supports the pursuit of physical, social and emotional well-being.  Membership includes two personal training sessions to help guide you to optimal fitness along with a free massage to treat those hard-working muscles! 
---
Make Haven Membership Package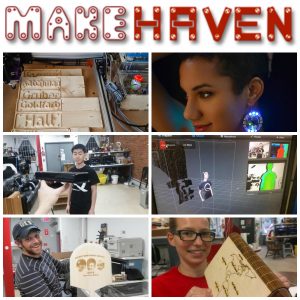 A six Month membership at MakeHaven, where you can make your dreams! Includes one-hour private lesson in 3-D printing or laser cutting. MakeHaven also offers members hands-on skill building experiences in mechanics, electronics, crafts, art, design, programming, cooking, biology, chemistry, fabrication, metalworking and woodworking. Membership includes any-time access to the tools, the facilities, and the vibrant community of makers, tinkerers, thinkers, inventors, and dreamers. Learn more about the tools and resources available to members at MakeHaven.org
---
Fig Tree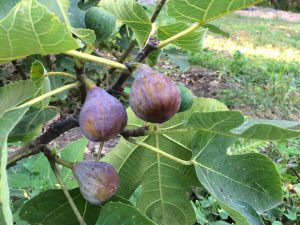 Always wanted your very own fruit tree?  Cricket Hill Garden in Thomaston generously donated a Chicago Hardy fig tree in a 2 gallon container. The tree is 3′ tall. Full care instructions provided.  About the variety: Small to medium sized fruit violet skin when ripe. Sweet, strawberry pink pulp. Fruit resembles that of 'Brown Turkey.' Excellent flavor and very hardy. If all above-ground growth is winter killed, new growth will leap out in the spring and still bear a crop of figs by late summer. Not all fig varieties will do this in shorter northern growing seasons. This variety was originally found growing in a garden on Chicago's south side. Likely of Italian origin.
---
Hand Crafted Quilt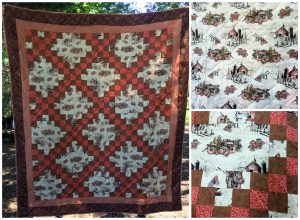 Cozy up with this beautiful quilt handmade especially for Feast from the Fields. Or, display it is a striking work of art. Its lightweight, soft feel, warm autumn colors and farm theme bring will make your house feel like a real homestead. Fits a queen size bed as a topper, a twin bed, or use as a lap quilt or wall hanging. Created by master quilter & Common Ground summer camp grandparent Ruth Cebik.
---
Children's Quilt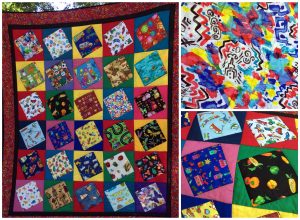 This is the perfect gift to brighten the nursery or child's room. This one-of-a0kind child's quilt will be perfect for a crib or child's bed. When the weather is warm, it has a built-in hanger to convert it to a wall display. Created by master quilter & Common Ground summer camp grandparent Dorothy Herdt.
---
Future Farmers Package
Inspire your child, grand-niece or young friend to become a farmer!  Playmobil baby farm animals and turtle play sets, and 4 hardcover children's picture books: Pete the Cat version of Old Macdonald had a farm, Senor Pancho had a Rancho, Old Mikamba Had a Farm and Old MacDonald Had a Truck.
---
Fire Ring Farm Gift Basket
Includes organically grown vegetables and canned goods from this Portland, Connecticut farm.
---
Common Ground's Basket of Uncommon Goods
Description: Bring home a piece of Common Ground with our Uncommon Goods from the farm: eggs, yarn made from wool from our sheep, jam, maple syrup and other seasonal goodies. Plus a certificate for one of our broiler chickens in the spring! 
---
Infinity Scarf
Description: Wear a little bit of Common Ground! This gorgeous hand-made infinity scarf is knitted from the wool from Common Ground's very own sheep, Daisy, Yarrow and Lacey.
---
Bull Bag & Pick Up
The newest trend in dumpsters, it's a bag, it's a dumpster, it's the Bull Bag!  Fill it with up to 3000 pounds of refuse and away it goes!  Drop off and pick up time to be mutually agreeable.
---
And much more, including a gift certificate from Koffee, Balanced Yoga classes, Westville Massage, Bishop's Orchard Basket, Natureworks Gift Basket, and red wine and white wine selections hand-picked and donated by Opici Wines.
In addition to the great items below, the Feast auction will include a chance to contribute to Common Ground's Above and Beyond Fund — supporting extraordinary learning and leadership opportunities for New Haven children and families.