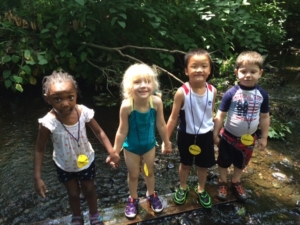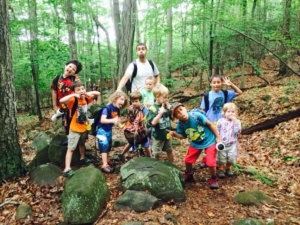 ---
Ages 5 – 13
Choose Your Own Adventure Camp allows campers to do just that – they can choose their activity each day! Choices are not limited by age, so campers ages 5 – 13 may choose to be in the same activities together. Each morning, campers enjoy Choice Time, which is open ended free play. Play areas include fort building, the mud kitchen, sandbox, chicken yard, field, and children's garden. After lunch, campers will sign up for the activity of their choice! There are four activities to choose from each day. Activity examples include making pizza from the farm, working in the woodshop, hiking to Judge's Cave, nature art projects, splashing in Wintergreen Brook, campfire cooking, gardening and animal care, and games of all sorts!
This camp is an extension of our main camp weeks and is a much smaller group experience. While our camp weeks of July 6 – August 14 welcome approximately 300 campers each day, these extended weeks are limited to 48 campers per day. Staffing and supervision remains at 1 adult teacher AND 1 high-school aged counselor for every 12 campers, and these extended weeks are staffed by some of the same highly experienced teachers as our school year and core camp programs. Please see the "Frequently Asked Questions" page for more details on the qualifications of our camp staff.
Medical needs for the camp weeks from July 6 – August 14 are supervised by a camp nurse (RN). These extended camp weeks do NOT have an RN on campus and first aid is provided by adult staff who are certified in First Aid and CPR.
Camper/Staff ratio: One adult camp teacher and one camp counselor for every 12 children (6:1 child to staff ratio, not including interns or Junior Counselors).
All campers receive a camp tshirt and water bottle. Camp hoodies are available for purchase when you register (optional).
---
Time: 8:30 – 3:00 (extended day available from 3:00 – 5:30 PM)
These camp weeks do NOT have an option for morning care from 7:30 – 8:30 AM.
Dates:
June 22 – 26, 2020
August 17 – 21, 2020
Daily options for August 24 – 28, 2020 may be added once fall school schedules are published!
---
Fee: $265 per week
Financial aid is available. Apply online HERE