Calling all farm & garden lovers 18 years and up, of all experience levels! We LOVE having help on the farm! Come learn from our farmers and help our garden grow! Farm volunteers are welcomed to join us every Saturday between 10am-1pm. Find us in the harvest pavilion (at the entrance to the big farm) or out on the farm. Questions? Email farm@commongroundct.org. Hope to see you there!
If you or someone you know is ready to prepare for college with dedicated, motivating teachers who want every student to succeed, check out Common Ground. Questions? Email or call Brian Kelahan: bkelahan@commongroundct.org / (203) 389-4333 x1281

Reminder that only ECOLOGY CAMP (all 6 weeks) begins on Monday, July 3. All other camps begin on Wednesday, July 5. We are closed on Tuesday, July 4.
Parents: need info? Check our camp FAQ!
Less than 10 spots remain in our summer camp! We have a few select spots for kids age 5-13 during our July 5-14 session. Learn more about camp here or see openings for camps here.
Join us every Saturday April-November 10am-2pm to taste and explore in the learning garden, visit the farm animals, look for frogs at the wetland, play and build forts in the woods, volunteer on the farm, hike in the woods and more!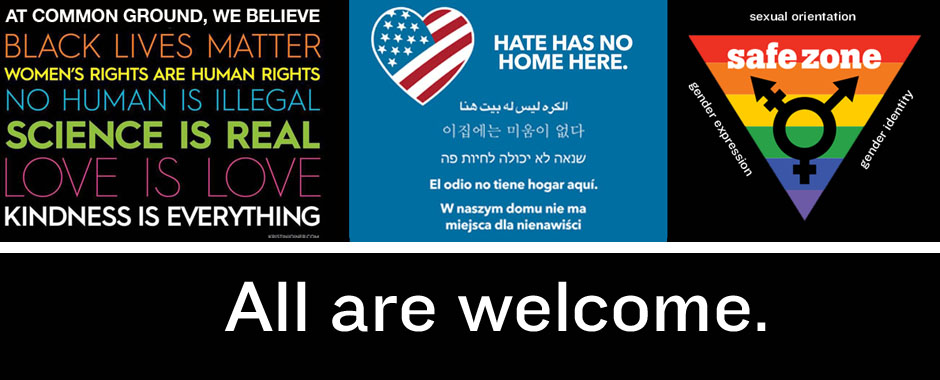 Common Ground stands firm in its opposition to the current administration's executive orders imposing a travel ban on Muslims from select countries, suspending the refugee program, restricting LGBTQ rights, and threatening to withhold Federal funding for law enforcement from sanctuary cities. These executive orders are in direct conflict with the values that define Common Ground and our community. Common Ground stands in solidarity with all those working to promote justice, equity, and inclusiveness by opposing oppression in all its forms. Finally, Common Ground is committed to performing its work with humanity, and with love for all of our community members regardless of where they come from, what religion they practice, or what their immigration status is.
Read a letter from our school director to our school families here.
Read a blog post from our executive director here.
Read a statement on our protection for LGBTQ rights here.
Organization Overview Common Ground is a center for environmental learning and leadership in New Haven, Connecticut where a diverse community of children, young people, and adults cultivate habits of healthy living and sustainable environmental practice.
Common Ground -- the nation's oldest environmental charter high school, creating the next generation of successful college students and powerful community and environmental leaders -- is seeking one passionate, creative, and certified English teacher. This
Program Overview The Schoolyards Program of Common Ground supports the creation and effective use of school gardens, schoolyard habitats, and outdoor classrooms in schools. We believe that by using our knowledge and resources to provide professional