Members of Common Ground's staff and faculty work hard and enjoy the fruits of our labor.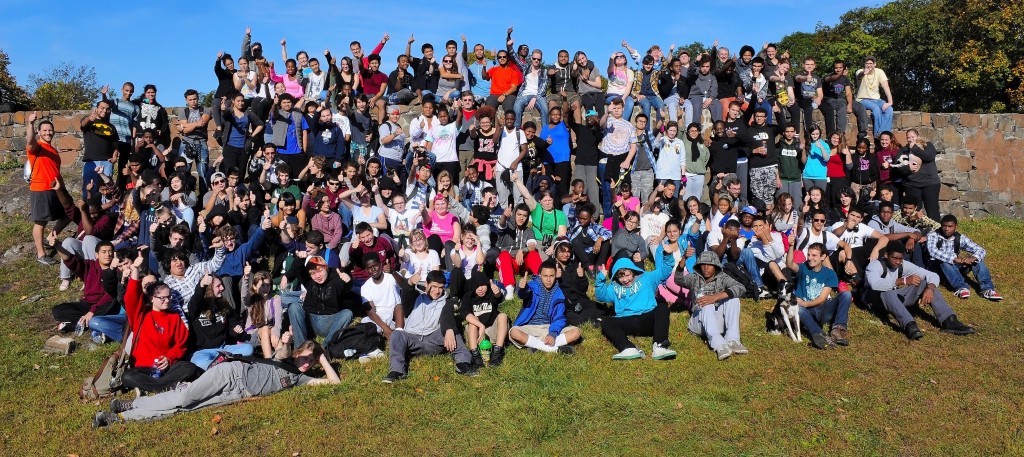 Current Openings
Lead Outdoor Educator and Outdoor Space Manager at Elm City Montessori
Common Ground is seeking a new staff member to manage all aspects of the Outdoor Learning Lab, and to lead outdoor programming and learning opportunities, at Elm City Montessori, a public Montessori school in New Haven. Read the job description and apply.
Social Studies/History Teacher
Common Ground — the nation's oldest environmental charter high school, creating the next generation of successful college students and powerful community and environmental leaders — is seeking one passionate, creative, and certified Social Studies/History teacher. Read the job description & apply.
Student Support Assistant/Homework Center Coordinator
The Student Support Assistant assists the Assistant Director and Director of the school with student support initiatives.  The Student Support Assistant also assists with the oversight of all aspects of the Homework Center, and ensures the provision of a safe and quiet work environment to support student completion of assignments. Complete job description & apply.
Other Opportunities
We encourage you to subscribe to Common Ground's email newsletter if you are interested in hearing about future employment opportunities at Common Ground. Jobs are also frequently posted on social media, so we encourage you to follow us on Twitter and like our Facebook page.
EEO/Non-Discrimination Policy
Common Ground High School is committed to a policy of equal opportunity/affirmative action for all qualified persons. Common Ground High School does not discriminate in any employment practice, education program, or educational activity on the basis of race, color, religious creed, sex, age, national origin, ancestry, marital status, sexual orientation, disability (including, but not limited to, mental retardation, past or present history of mental disability, physical disability or learning disability), genetic information, or any other basis prohibited by Connecticut state and/or federal nondiscrimination laws. Common Ground High School does not unlawfully discriminate in employment and licensing against qualified persons with a prior criminal conviction.
In accordance with the Americans with Disabilities Act of 1990 (ADA), as amended, it is the policy of the New Haven Ecology Project, Inc. and Common Ground High School not to discriminate against protected qualified applicants and employees with disabilities in all aspect of employment.
Inquiries regarding Common Ground High School's nondiscrimination policies should be directed to:
Betsy Sneath
Director of Business and Administration
Common Ground – High School, Urban Farm and Environmental Education Center
358 Springside Avenue
New Haven, CT 06515
T 203-389-4333 x1211
F 203-389-5478
bsneath@commongroundct.org
www.commongroundct.org