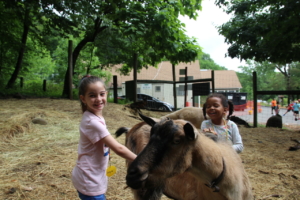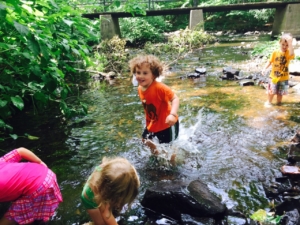 ---
Ages 5 – 6

Saplings Campers get to sample everything that Common Ground Camp has to offer. Activities change from week to week (and campers may attend for multiple weeks). Saplings Campers will visit the farm animals, go for hikes and stomp in the stream, dance in the sprinkler, and dig in the mud kitchen. Other weekly activities may include nature arts, cooking from the farm, campfires, fort building, and lots of time for play in nature.
The primary difference between SAPLINGS CAMP and ADVENTURE CAMP is that Saplings Camp is offered in weekly sessions and Adventure Camp is only offered in two-week blocks. The age range for our youngest Adventure Camp group is also a little wider than Saplings Camp, with our youngest Adventure Camp group being children ages 5 – 8 (vs Saplings Camp, which is just for ages 5 – 6). Both camps do a little bit of everything that Common Ground has to offer!
Saplings Camp has a home base in a classroom in our school building, which is the perfect retreat for thunderstormy days or a cool lunch spot on extra hot days. Like all of our camps, the large majority of our day is spent outside on the farm and in the forest!
Our Saplings Camp teachers are professionals who have lots of experience with children and boundless enthusiasm for outdoor play and exploration! Teachers are assisted by high school student counselors. Each group is also joined by junior counselors (13+ year old volunteers), so we have lots of helpers available. Please see the "Frequently Asked Questions" page for more details on the qualifications of our camp staff.
Camper/Staff ratio: One adult camp teacher and one camp counselor for every 12 children (6:1 child to staff ratio, not including interns or Junior Counselors).
All campers receive a camp tshirt and water bottle. Camp hoodies are available for purchase when you register (optional).
---
Time: 8:30 – 3:00 (extended day available from 7:30 – 8:30 AM and/or 3:00 – 5:30 PM)
Dates:
Session 1: July 2 – July 13, 2018 (This is a two-week session. CLOSED July 4 )
Session 2: July 16 – July 20, 2018
Session 3: July 23 – July 27, 2018
Session 4: July 30 – August 3, 2018
Session 5: August 6 – August 10, 2018
Fee: $260 per week (Session 1 is $500)
Interested in multiple weeks of camp? Check out Ecology Camp (ages 5-12) — six weeks of adventures with a consistent peer group, plus weekly field trips!
We accept Care4Kids.
Financial aid is available. Apply online HERE