We grow over 25 fruits and vegetables on our farm. Find Common Ground produce in the spring, summer, and fall on our campus and with CitySeed's Mobile Market. During the winter, we dedicate the harvest to school lunch, so do not have produce for sale to the public.
At Our School
Over 2,000 pounds of our harvest goes to our school programs to enrich our high school community and their families. School lunches, Student & Family Garden Share Program, and our special events all share the bounty of our harvest. In the spring and fall, fresh produce goes directly to our school kitchen. In the summertime, our summer kitchen crew is busy freezing and preserving the harvest for use at the school when garden production slows.
Common Ground Farmstand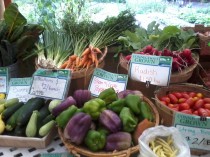 Common Ground's on-site farmstand is open on Wednesdays from 3:00pm-4:30pm, running from July 1st until August 26th. We have vegetables and eggs for sale. We accept WIC and SNAP.
Mobile Market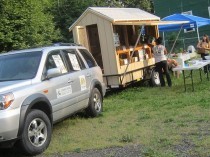 Common Ground has partnered with CitySeed to launch a new mobile farm market, getting local produce to New Haven communities without other access to fresh, local food. Read more on CitySeed's web site.
You will find our eggs, lettuce, greens, tomatoes, peppers, onions, string beans and so much more! Our farm stand also accepts WIC farmers market checks, SNAP benefits and Senior Farmers Market Nutrition Program vouchers. At CitySeed markets you can DOUBLE YOUR VALUE when you use your SNAP card too!
While waiting for the next growing season, you can quench your appetite with some food for thought from blog posts about our farm, some seasonal photographs of the farm or find an opportunity to get involved on the farm!