You know Feast is awesome. And if you don't know, trust us. It is. If you haven't been, this is your year.
Join us for the 8th Annual Feast from the Fields! Amongst all the great food and fun and celebration, we will be having both Live and Silent Auctions. These will feature items and experiences that connect to Common Ground's mission and values. Because the party shouldn't be over on September 27th.
LIVE AUCTION ITEMS

Private Caseus Party
Enjoy a private dinner for 8 at Caseus's cheese shop. The fun starts with a beer & cheese tasting and menu planning session in your home with chef Jason Sobocinski of Caseus. Once you've enjoyed your beer and cheese and decided on a menu and date, he and his amazing Caseus team will cook dinner for you and friends and serve it up in the Caseus Restaurant cheese shop.
---

A Week On Martha's Vineyard
Enjoy a beautiful four-bedroom cape in Vineyard Haven, with easy access to all that Martha's Vineyard has to offer. Walk miles of beaches, explore colonial history, eat and shop in quaint villages – or simply relax in a world apart from the daily grind. Available for a week to be negotiated during the next year.
---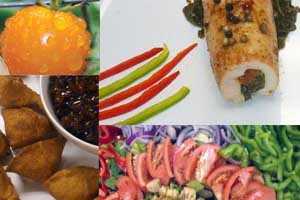 Common Ground Party for 20
Looking for a different kind of birthday celebration? A cocktail party in an outdoor setting? A unique way to celebrate a retirement, anniversary, or other occasion? Let Common Ground host your next celebration on our 20-acre site. Common Ground will take care of all of the details: appetizers from our garden prepared by our chefs, wines and local beers, a beautiful location, and attentive servers. Available to the winning bidder and 20 of their friends during the growing season, April-October.
---

Berkshire Getaway
Escape to a remote corner of the Pioneer Valley for a long weekend or relaxing week surrounded by the peace and quiet of the Hidden Hills. Located less than a two hours away from New Haven, this spectacular lodge, situated on 180 acres in Chester, Massachusetts, has over 2000 feet of frontage on the wild and scenic West Branch of the Westfield River.  The Nature Conservancy's Gobble Mountain Preserve, excellent for hiking, is just across the road.  Also nearby: Keystone Arch Bridges trail, your own private waterfall. the acclaimed Chester Theatre, fifteen minutes from Jacobs Pillow Dance Festival, and just half an hour from Tanglewood and other Berkshire attractions.
Plenty of space with three bedrooms, two and a half baths, and sleeping space for ten (more if the kids are happy camping out in the loft).  Available for five weekdays or a long weekend between April and October (to be agreed upon with the owners).
---

Three-Night Getaway at Beach House Overlooking the Beautiful Niantic River in Northeast Connecticut
Enjoy a long weekend in a beautiful setting without hours of travel time! Alida Engel's and Gene Burger's beach house in Saunder's Point on the beautiful, wide, peaceful Niantic River, is only 45 minutes northeast of New Haven. The house has a master bedroom (queen bed), 2nd bedroom (bunk beds, sleep 2), and queen-size futon in the den; a fully-equipped kitchen; a large, enclosed, child-safe deck; and four bikes and 3 kayaks available for use.  It's just a one minute walk from river bank and a ten minute walk to developed swimming beach.  Downtown Niantic, less than a ten minute drive away, has great used book stores, a good multiplex theater, nice restaurants, excellent ice cream, and boutiques, as well as good state and local parks and beaches.  Close to charming Connecticut River valley towns, art museums, and theaters.
---

Adirondacks Getaway
Take a long Fall or Winter weekend at this beautiful Adirondacks retreat. This fully-winterized, lakefront house can  accommodate as many as 10 people. Perfect spot for leaf peeping, hiking the beautiful mountainous trails, or enjoying a ski vacation! 45 minutes to Whiteface Mountain. Cross country skiing right out the basement door onto Upper Saranac Lake. Unavailable Columbus Day, Veterans Day, MLK, and Presidents' Day weekends.
---

Winemaking Adventure and Italian Lunch for 4
Come to the home of the Gaudioso family in Northford on October 4th and experience wine making, from crushing to bottling, with 3 of your friends. When this year's wine is bottled, a case will be reserved for you to pick up.
Enjoy an amazingly delicious Italian-style lunch, home cooked meal made by an Italian Mom and Dad. Sample menu: homemade pickled eggplant, stuffed peppers, cheese, olives, brie, roasted red peppers, garlic bread, lasagna, salad, Great-Grandma's angenettis. Then hang out by the fire pit and enjoy homemade wine from last year's vintage. Invitation for 4 people.
The Gaudioso family's red blend won first place at the North Haven Day of Wine & Roses Festival!
---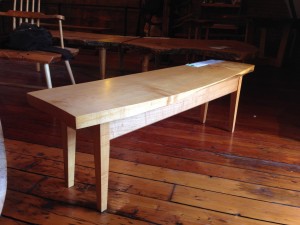 A One-of-A-Kind Bench
The amazing craftspeople at City Bench — Ted and Zeb Esselstyn — turn fallen and diseased trees into one-of-a-kind works of practical art. Right now, they are working at Common Ground to put trees that must be removed from our site into use in our new school building. Ted and Zeb have created this special  bench from a New Haven tree.
---
SILENT AUCTION ITEMS
Vermont Getaway
Spend a beautiful weekend in Southern Vermont.  Enjoy hiking, kayaking and exploring: winery, brewery, fromagery, antiques and crafts nearby. This home is only 2 hours from New Haven and sleeps 6 comfortably. It is available for up to four days/three nights during fall or spring.
---
Kayak Outing and Lobster Feast for 4
Come enjoy a Saturday kayaking on the wide, calm, beautiful Niantic River (kayaks provided); after which Alida Engel and Gene Burger will serve you a four-course, mostly organic, lobster and wine feast in their river-view home, just 45 minutes outside New Haven.
---

Overnight at The Study & Breakfast for 2 at Heirloom
Enjoy a restful, beautiful boutique hotel staycation (or invite an out-of-town guest to visit in style) with an overnight at the The Study Hotel. Cap off your stay by indulging in a gourmet breakfast for two at the stylish Heirloom restaurant the next morning.
---
Shubert Performing Arts Center
You deserve another night out and a rousing performance at this venerable New Haven theater.  Two tickets to the opening night of Flashdance, December 4, 2015 at 8:00 pm.
---
Piano Accompaniment for Your Next Party
Evan Green—Common Ground math teacher—also happens to be a virtuoso concert and jazz pianist. Hear a preview of his talent when he performs at Feast!
Evan studied jazz at Oberlin, Eastman School of Music, and New England Conservatory. Green is honored to have performed with, recorded with, and/or shared the stage with musicians such as George Clinton, The Roots, Charlie Hunter, Zappa Plays Zappa, Victor Bailey, Cyro Baptista, Valery Ponomarev, Melvin Sparks, Burning Spear, Jimmy Greene, Sam Kinninger, Steve Davis, and many others. His compositions and recordings for East Coast foursome "Stanley Maxwell" (a perennial Hartford Advocate reader's choice winner in the annual Grand Band Slam) have been featured in Relix magazine and won "Best Jazz Composition" at the 2007 Independent Music Awards. Evan is happy to bring his talent to your next event or party, donating an hour of playing.
---
Original, Framed, Common Ground Photography
These breathtaking natural moments were captured by our own amazing photographer and math teacher, Mel Morales. Each photo is paired with a photographer's note on the subject, place, or the story behind it, making every one an intimate look into the world of Common Ground. It is the perfect way to bring this magical place into your home or office. (Looking to learn to take beautiful photos like these? Check out Mel's Nature Photo course in October!)
---
Organic Beer Tasting in Your Home
John Pancoast and Paul Tipton, avid beer enthusiasts, will provide a selection of organic and non-organic beers for tasting for up to 6 people in your home. Compare and contrast the offerings, and  learn about the many new, delicious, and environmentally-friendly products that are now available.
---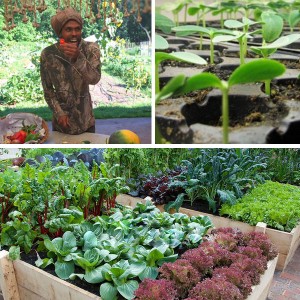 Garden Consultation and Seedling Starters
Common Ground Farmer Dishaun Harris offers a 2 hour personal consultation for your spring home garden (in progress or in hopes of starting!) Follow that with a coupon for 10 seedlings from our spring sale and a bag of Common Ground compost to make your dream garden a reality!
---
Fire Ring Farm Gift Basket
A gift basket including organically grown vegetables and canned goods from this Portland, Connecticut farm. Donated by Nancy and Bruce Livensparger.
---
Common Ground's Basket of Uncommon Goods
Bring home a piece of Common Ground with our Uncommon Goods from the farm: eggs, yarn made from wool from our sheep, jam, maple syrup and other seasonal goodies.
---
2 Tickets to Artspace's City-Wide Open Studios House Party on Oct 9
Enjoy an evening of intimate guided tours to preview the City-Wide Open Studios festival at the Goffe Street Armory. Painters, sculptors, architects, and creative types of all kinds will be featured in their pop-up workspaces, in dialogue with scholars, critics, and museum curators. Dinner fare catered from an array of the artists' favorite food trucks.
---
Red or White Wine Selection
Enjoy a selection of red or white wines hand-picked and donated by Opici Wines.
---
Escape New Haven, in New Haven!
Escape New Haven is a cooperative, real-life adventure space where nothing is as it seems. You and your team are trapped; you have 60 minutes to escape a room by solving a series of puzzles that will challenge your mind and confound your senses. Explore, adapt, work together, think creatively. Do you and your friends have the minds to escape? Good for 4 escapees.
---
Private Screening and Discussion with Filmmaker Ann Johnson Prum
Ann Johnson Prum, Emmy winning documentary filmmaker, will provide a private screening of her latest film in your home. Ann was awarded the 2013 Emmy for Best Nature Documentary for An Original Duckumentary ,and her previous documentary, Hummingbirds: Magic in the Air, was nominated for four Emmy awards. For the past 20 years, Ann has been creating documentaries about nature, science, and the arts.  Her work has been seen on PBS Nature, Discovery, TBS, The Sundance Channel, HGTV and the Science Channel.
Ann will discuss the details on how she creates her films: how the shots are captured and how writing, music, and sound effects are used to tell the stories.
---
Discover the Fair Haven Renaissance
Discover the hidden treasures of the Quinnipiac river and historic Fair Haven. For about 2 hours, Lee Cruz of the Community Foundation for New Haven and Kimball Cartwright of Common Ground will walk you through a fascinating neighborhood undergoing redevelopment. Through story telling, they will introduce you to the history of the neighborhood, its people, its architecture, its local businesses, its community gardens, its river parks. Most importantly, you will witness the rebirth of a waterfront community. The package includes the tour, lunch for up to 6 people at a local eatery, two bottles of wine from Grand Vin and a panoramic print of the Quinnipiac river.
---
Westport Country Playhouse tickets
You and a friend will attend a production and enjoy a VIP tour of this former summer theater recently named theater "Company of the Year" by The Wall Street Journal. You'll start your evening with a behind-the-scenes tour of the Playhouse, and get to step on the stage shared by former Artistic Director Joanne Woodward and hundreds of other celebrated artists. After your tour, settle into two prime house seats for a 2016 production of your choice, and rub elbows with other VIPs in the Smilow Donor Lounge during intermission.  Reserve early if you win, as tickets are subject to availability.
---
Private Mosaic Art Class for Four
Private mosaic class for up to 4 people, in your home or at the artist's studio. Learn the basics of mosaic making: the variety of materials and adhesives, design and composition, cutting and laying of tile, and the grouting process. Supplies such as glass tile, ceramic tile, stained glass, and broken pottery will be available for you to use, and all the necessary tools, adhesives, and materials will be provided. Make a trivet, house sign or mosaic picture. Class is 4 hours long.
---
Four Seasons Quilt
Cozy up with this beautiful quilt handmade especially for Feast from the Fields. Or, display it is a striking work of art. The gorgeous color progression represents the changing seasons, and its lightweight, soft feel and stunning colors make it a perfect fit for any time of year. The back features special Farmer's Market/chicken wire fabric selected with Common Ground in mind. Created by master quilter Ruth Cebik.
---
Handmade Necklace
This necklace is made with faceted, pink chalcedony, black sea glass, black and white lampwork beads, and a Balinese silver clasp.
For those who are curious, the artist tells us pink chalcedony is known for its  gentle, nurturing energy, that is said to encourage empathy and feelings of inner peace. Who couldn't do with a bit more of that?
---

Local Brewery Tastings & Tours
Raise a glass to toast our local breweries! Check out Thimble Island Brewing Company of Branford, CT; Black Hog Brewery of Oxford, CT; and Two Roads Brewing Company in Straford, CT at your leisure. Visit each to fill your squealer and stop to enjoy whatever is going on at the brewery that day.
---

Original oil painting, The Beach
Bring the calm of the beach into your home with this lovely painting by local artist Jean Swanson.
---
Tiny Bowl
These tiny bowls adorn many altars, side tables, and kitchen counters across the world. They posses a remarkable ability to bring beauty to a space. They can serve as censers for burning resins, as a vessel for anything that needs to be held or cradled.
This bowl was made on an old Japanese wheel and consists of glazed stoneware with a dyed, raffia-wrapped wire handle. Please visit tinybowls.com for more info.
Creator Juan Lube is an artist, IT specialist at the T. Colin Campbell Foundation, and maker of magic who lives and works in the Ithaca area.