Join us for the 7th Annual Feast from the Fields! Amongst all the great food and celebration we will be having both Live and Silent Auctions. These will feature items and experiences that connect to Common Ground's mission and values. Join us and let the Feast continue after the 27th!
Don't miss all the fun! Limited Feast  tickets are available! Reserve yours today!
LIVE AUCTION ITEMS
Party for 10, Caseus Style
Enjoy Feast? Experience it again, with up to 9 of your friends! Jason Sobocinski and his amazing Caseus team will cook dinner, using ingredients sourced from Common Ground, and serve it up in Common Ground's beautiful Harvest Pavilion, just feet from where your meal grew. Jason will also select wines to accompany the meal.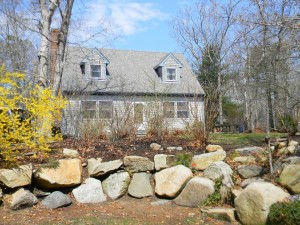 A Week On Martha's Vineyard
Enjoy a beautiful four-bedroom cape in Vineyard Haven, with easy access to all that Martha's Vineyard has to offer. Walk miles of beaches, explore colonial history, eat and shop in quaint villages – or simply relax in a world apart from the daily grind. Available for a week to be negotiated during the next year.
Have a Seat On One of Common Ground's Trees
The amazing craftspeople at City Bench — Ted and Zeb Esselstyn — turn fallen and diseased trees into one-of-a-kind works of practical art. They are working at Common Ground to put trees that must be removed from our site into use in our new school building. Ted and Zeb are also ready to create a beautiful, unique, 6′ long bench for your home, using wood from one of Common Ground's trees.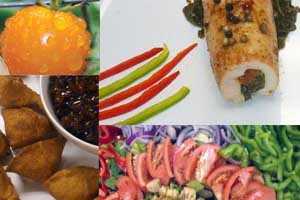 Common Ground Party for 20
Looking for a different kind of birthday celebration? A cocktail party in an outdoor setting? A unique way to celebrate a retirement or other occasion? Let Common Ground host your next celebration on our 20-acre site. Common Ground will take care of all of the details: appetizers from our garden and kitchen, organic wines and local beers, a beautiful location, and attentive servers. Available to the winning bidder and 20 of their friends during the growing season, April-October.
Three Night Getaway Overlooking the Beautiful Niantic River in Northeast Connecticut
Enjoy a long weekend in a beautiful setting without hours of travel time! The house includes a large master bedroom upstairs with a grand view of the river where it is over a half-mile wide. The second bedroom has a "full" bed below and a "single" bunk above, ideal for sleeping up to three children; the downstairs den has a queen-sized futon couch/bed. The home is winterized, boasts two-and-a-half baths, and the locale is always gorgeous, whether during the autumn leaf season or when there is a cover of crisp snow on the ground. It's situated a short drive from Mystic (CT) Seaport and the Mystic Aquarium. The Niantic town beach, on Long Island Sound, is a 12 minute drive from the house. The Niantic River, a half-block from the front door, is great for kayaking, rowing, and wading, and the nearby community beach offers pleasant swimming. Tennis courts and playgrounds are right in the neighborhood. Owners Alida Engel and Gene Burger were told by a recent guest that, "Your beautiful home was the perfect spot for the rest, rejuvenation and writing I'd hoped for." Good for three weekend nights at a date to be determined in the 2014-2015 school year.
Champagne and Crustacean Cruise
Enjoy dinner and a 4-6 hours cruise aboard the 37′ Tartan Sailboat "Spirit" with 3 of your friends.  Back by popular demand yet not available every year, this special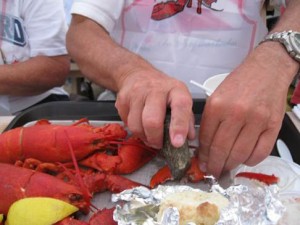 nautical experience features a sailing trip on Long Island Sound, cruising through the Thimble Islands with your hosts Robert and Tricia Johnson.  Aboard the sailboat, Common Ground Science Teacher Tricia "Trish" Johnson and her husband Rob will prepare you a dinner featuring hors d'oeuvres, drinks and lobsters.  Don't miss out on an evening to savor the beauty of good food, good company, and the open water!
Take it Easy in the Big Easy! Three Night Stay in New Orleans
Located in the historically designated Marigny Triangle neighborhood of New Orleans, the apartment is half a traditional double shotgun, single story wood frame residence originally built about 1900. Two blocks away from 14 live music venues, and completely renovated in 2012, it features one bedroom with a queen bed, an all-new kitchen, a dining room, a TV room with pull-out queen sleeper sofa, and an entry parlor with pull out queen sleeper sofa and pull out twin sleeper chair. Wireless internet, and all the necessary linens and equipment are already there. Three night stay available late spring, 2015 through end of December, 2015, apart from JazzFest and French Quarter Fest.
Sushi Party in Your Home with Bun Lai of Miya's
Sustainable food pioneer and James Beard nominated chef Bun Lai, of Miya's Sushi, will teach you and your friends (up to 10 people) how to make sushi in your own home. The sushi will be coupled with a tasting of premium sakes. Bun Lai is a former Olympic Trials wrestling coach, a former Director of nutrition of a non-for-profit that serves low income pre-diabetics (New Haven Farms), and an author who was recently published in Scientific American Magazine. His restaurant, Miya's, which was founded over three decades ago by his nutritionist mother, is the first sustainable sushi restaurant in the world. His television series, where he explores edible invasive species around the world, will premiere in 2015.
SILENT AUCTION ITEMS
Birthday Party at Common Ground with Treats from Cafe Romeo!
Celebrate the birthday of a special child in your life Common Ground style. Select any of our fun themed parties: Meet our animals and taste goodies straight from our fields at a Farm Fun party. Engage your young chef and friends with a Pizza Making party as they cook their own pizzas from scratch. Sled through our snow-covered campus, hunt for animal tracks in the snow, and learn about maple sugaring on a Winter Adventure. Explore nature on one of our many hiking adventures around West Rock, including treasure hunting, a trail walk to Judges' Cave or Wintergreen Brook, or enjoy the combination of a campfire and sunset hike. Sweeten the deal with a birthday cake or cupcakes donated by Cafe Romeo. Starting bid: $200
Piano Accompaniment for Your Next Party
Evan Green—Common Ground math teacher—also happens to be a virtuoso concert and jazz pianist. He studied jazz at Oberlin, Eastman School of Music, and New England Conservatory. Green is honored to have performed with, recorded with, and/or shared the stage with musicians such as George Clinton, The Roots, Charlie Hunter, Zappa Plays Zappa, Victor Bailey, Cyro Baptista, Valery Ponomarev, Melvin Sparks, Burning Spear, Jimmy Greene, Sam Kinninger, Steve Davis, and many others. His compositions and recordings for East Coast foursome "Stanley Maxwell" (a perennial Hartford Advocate reader's choice winner in the annual Grand Band Slam) have been featured in Relix magazine and won "Best Jazz Composition" at the 2007 Independent Music Awards. Evan is happy to bring his talent to your next event or party, donating an hour of playing. Starting Bid: $100
Private Baking Class for 4 at Katalina's Cupcakes
Learn to bake from a New Haven master! Invite some friends and gather to learn the sweet secrets of cupcake making. Enjoy two hours of hands-on instruction from Katalina's founder Katalina Riegelmann. Starting bid: $100
Private Overnight Camping at Common Ground
Camp in our canvas-sided cabins with a group of up to 48 people! Includes a campfire, night hike, and a farm breakfast. An amazing experience for a kid's birthday party, a retreat for a student or professional group, or a bunch of friends! Starting Bid: $300
Fire Ring Farm Gift Basket
Includes organically grown vegetables and canned goods from this Portland, Connecticut farm. Donated by Nancy and Bruce Livensparger. Starting Bid: $40
Original Chicken Art by Robert Fort
Feel a little bit of the farm any time you look at this frame-ready matted piece. When artist Robert Fort isn't creating animal portraits, he's works for Workforce Alliance, a major supporter of our Green Jobs Corps.
Farm Toys
A farm play set generously donated by Anne Olcott.  Starting Bid: $25
Common Ground's Basket of Uncommon Goods
Bring home a piece of Common Ground with our Uncommon Goods from the farm: eggs, yarn made from wool from our sheep, jam, maple syrup and other seasonal goodies.  Starting Bid: $75
Handmade Cornhole Boards–Make Your Yard a Party!
Experience the cornhole phenomenon in style with this beautiful handmade set of boards. Donated by New Haven Cornhole, designed by Bill and Jane Dennett. Starting Bid: $100.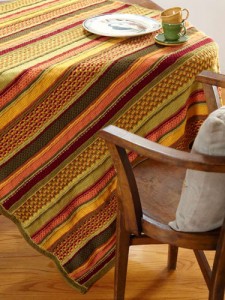 Snuggle Into Autumn with a Handmade Blanket
A celebration of New England countryside in autumn. The yellows and oranges of sugar maples and incredible red of viburnum are tempered with the soft green of spruce needles and the deep greens of pines.  A super soft lap blanket, measuring approximately 45"x60" and made from a Berocco super chunky yarn blend that is super soft and machine washable. Knit and donated by Amity Doolittle.  Starting Bid: $75
Garden Party – A Work of Art
A beautiful mixed media work by Gretchen Wohlgemuth, a West Hartford artist. Donated by the artist. Starting Bid: $75
Collaboration
A multimedia work of art by Jean Swanson, Bethany artist. Starting Bid: $100

Keep Warm with an Infinity Scarf Knit from Common Ground Sheep Wool
Take home a piece of Common Ground by bidding on an infinity scarf knit with wool from Common Ground's own sheep–Daisy, Yarrow and Lacey. Hand knit with a leaf motif by fiber artist and Common Ground art teacher, Jessica Pressley. Super warm and snuggly–embrace the season change with a smile! Starting Bid:  $40
Local Beers & Sustainable Wines Gift Basket
Raise a glass! Enjoy beer from local brewery Thimble Island Brewing Company. Take a drive to Oxford to visit the Black Hog Brewery and fill up three squealers with a favorite seasonal brew. Or just pop a cork and enjoy a bottle of sustainable, organic, tasty wine donated by Opici Wines.  Starting Bid: $75
Specialized Gift Baskets
The perfect treats for the chocolate lover, wine enthusiast or baker in your life. And yes, it is okay to keep all the goodies for yourself.  Starting Bids: $75